Cook County Breaks New Ground With Demolition Debris Diversion Ordinance
In early September the Huffington Post published an article titled Rethink, Recycle, Rebuild: How Deconstructing a Home Makes Environmental and Economic Sense, about the environmental and economic incentives of recycling and salvaging building material. The Post's article highlights that 75-90 percent of materials in all homes can be reused or recycled and also states that "in some cases, used building material donations can actually pay for the costs of deconstruction and contribute some money toward building a new home."
On July 24th, 2012 the Cook County Board of Commissioners passed the Demolition Debris Diversion Ordinance requiring that 70 percent of debris for all demolition projects be recycled, and that residential properties divert 5 percent of debris for reuse. The ordinance, endorsed by Cook County President Toni Preckwinkle, has big economic, social and environmental benefits. It creates jobs and returns valuable materials to the market. The United States Environmental Protection Agency states that 40 percent of the material going into landfills is from demolition projects, so the Demolition Debris Diversion Ordinance is also a huge first step towards Cook County's goal of becoming a zero waste county.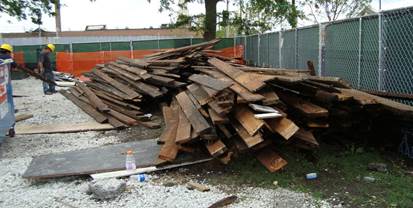 "I think the biggest benefit of the Demolition Debris Diversion Ordinance has been getting people, contractors, municipal employees, and average citizens, to rethink how they generate and use waste," said Bryant Williams, manager of engineering services for Cook County Department of Environmental Control.
The Demolition Debris Diversion Ordinance mandates a style of demolition that creates less noise nuisance and dust disturbance than traditional demolition. It supports the local economy by creating job opportunities, promoting aggregation of reusable materials, and enabling contractors to keep material costs low. The county also implemented free online software called Green Halo to simplify how they track waste and recycling, and to ensure recycling requirements are met. Since the ordinance went into effect on Nov. 21st, 2012, Cook County has recycled more than 120,610 tons, and salvaged 24,178 tons of debris. The Demolition Debris Ordinance won the Building Material Reuse Association's award on April 30th, 2013 for progressive governance and has local governments from Bloomington, IN to the City of Vancouver asking Cook County for information in order to develop similar plans.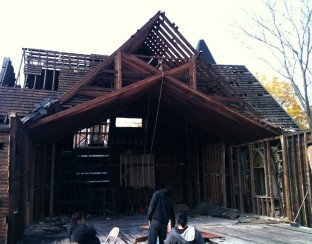 In order to spread the word about the new ordinance, and its environmental and economic impacts, Cook County's Department of Environmental Control has been doing outreach education workshops and seminars targeting local contractors and municipal employees. "Part of the goal of the Demolition Debris Diversion Ordinance is to get people to stop thinking of waste and start thinking of the demolition debris as material that can be beneficial to them," said Williams, Cook County's lead presenter. So far, Cook County has held workshops in Oak Park at the ReBuilding Exchange, at the Evanston Rebuilding Warehouse, the South Suburban Mayors and Managers Association, and has given a guest lecture at DePaul University.  There is another workshop today, October 24th, at the Evanston Rebuilding Warehouse