high-level alert:
FEMA Assistance Available to Cook County Residents Impacted by Flooding
About Fair Transit
About Fair Transit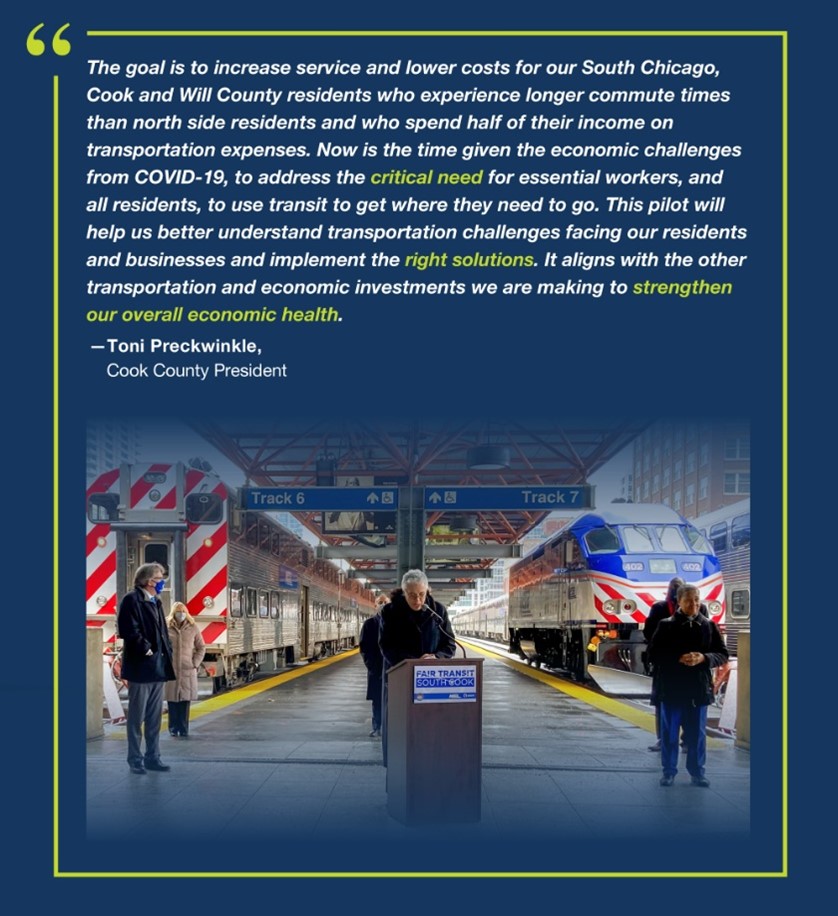 The Fair Transit pilot provides residents and commuters in south Cook County with greater opportunities to make transit their choice for getting to work, school, shopping and regional destinations. The goal of this pilot is to ease commuting burdens by partnering with transit agencies to provide improved and more affordable transportation options. The methods for attaining this goal include fare reductions and an increase in service options for commuters. Learn more about why South Cook was chosen through our findings: Why South Cook – Maps and Data.
Metra, Pace and DoTH are working together towards achieving:
Fare reduction
Improved service options
Simplified transfers
The County is underwriting costs for each participating agency and part of this pilot is funded through the Federal Transit Administration's (FTA) Accelerating Innovative Mobility program. You can learn more about the grant process and awardees here.
Timeline Activities
The Metra, Pace and Cook County Boards approved participation during their respective 2020 November and December Board meetings. 
A formal kick-off event celebrating the launch of Fair Transit was held at the LaSalle Metra Station on January 4, 2021. Watch the event in its entirety on Cook County's YouTube channel. 
Leading up to the launch event, community partners were also interviewed about the impact Fair Transit will have on their communities. Watch the highlight video here.