Earth Hour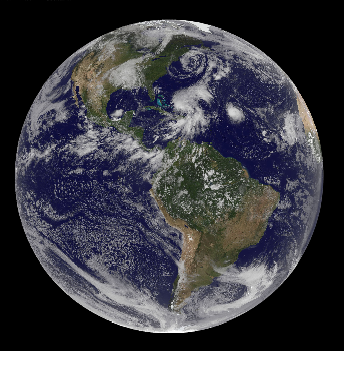 [Photo courtesy of NASA.gov - educational materials]
Cook County commemorates Earth Hour each year by turning off non-essential lights for an hour to call attention to climate change. Earth Hour gives time for the Cook County Department of Facilities Management to save energy and send a message about the role local government plays in cutting harmful greenhouse gas (GHG) emissions by turning off lights from 8:30 p.m. to 9:30 p.m. at several facilities. Emergency lighting and all lighting necessary for public safety remains on.
Earth Hour is a global event organized by the World Wide Fund for Nature. It takes place annually to encourage communities, households, businesses and municipalities to turn off their non-essential lights for one hour as a symbol of their commitment to climate action.
"Local action is key in the fight against climate change," Cook County Board President Toni Preckwinkle said. "Cook County has worked diligently to reduce energy use in County facilities because we know that our planet and its resources are vulnerable. We participate in Earth Hour to send the message that climate change and its effects on the environment must be heeded." More information may be found at www.earthhour.org.
The following County buildings participate in Earth Hour:
County Building, 118 N. Clark St., Chicago
Dunne Administration Building, 69 W. Washington St., Chicago
Juvenile Temporary Detention Center-West Side Administration/Court building only, 1100 S. Hamilton Ave., Chicago
Domestic Violence Courthouse, 555 W. Harrison St., Chicago
Cook County Courthouses in Rolling Meadows, 2121 Euclid Ave., Rolling Meadows
Cook County Courthouse in Skokie, 5600 Old Orchard Rd., Skokie
Cook County Courthouse in Maywood, 1500 Maybrook Dr., Maywood
Cook County Courthouse in Bridgeview, 10220 S. 76th Ave., Bridgeview
Cook County Courthouse in Markham, 16501 Kedzie Ave., Markham
Leighton Criminal Court Building. 2650 S. California Ave., Chicago
Criminal Courts Administration Building, 2650 S. California Ave., Chicago
In 2021, Cook County announced that it has reduced GHG emissions from its building energy use by 32 percent since 2010, according to the County's Annual Sustainability Report. GHGs are a key factor in climate change. President Preckwinkle has made sustainability and green practices a priority in her administration, and created the Green Leadership Team, which is tasked with finding innovative solutions and resources for sustainability programs that foster energy efficiency and decrease pollution.