Cook County Ahead of Target in Fighting Climate Change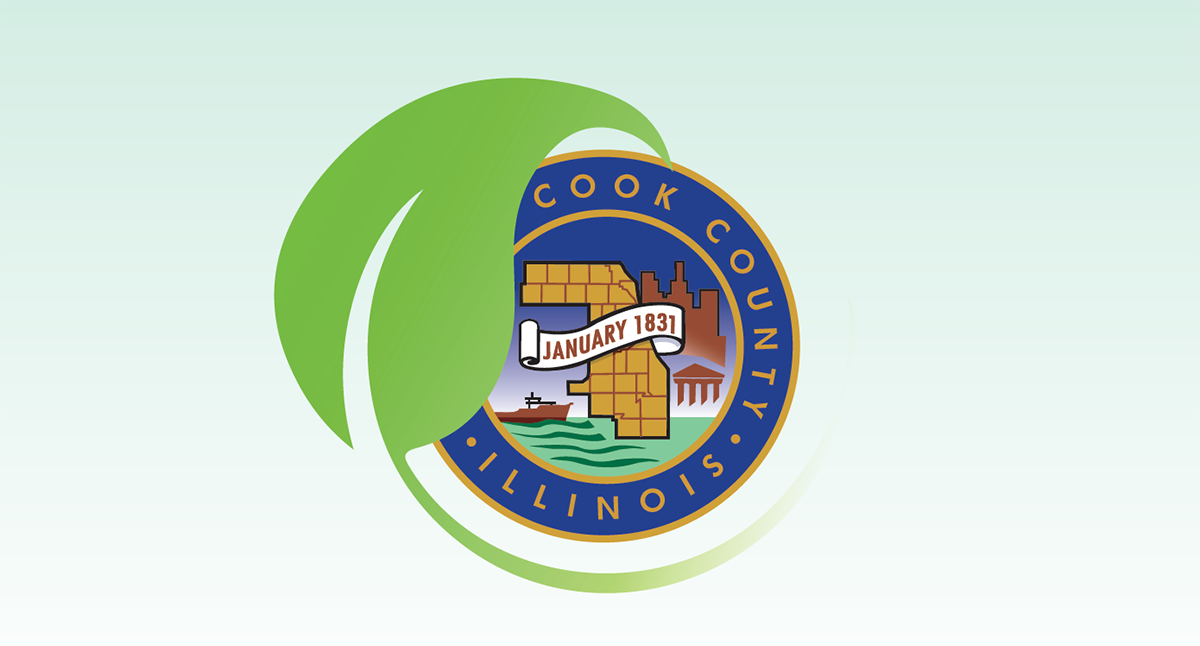 .
New report shows 19 percent reduction in greenhouse gas emissions from County operations
For the fourth year in a row, Cook County is exceeding its greenhouse gas emissions reduction goals, the County's annual Sustainability Report shows. This ongoing achievement is in line with Cook County's commitment to fight climate change.
"In Cook County, we have worked hard to significantly reduce our greenhouse gas emissions. In only a few years, we are already exceeding our goals and have reduced energy use at our buildings by 25 percent and overall greenhouse gas emissions by 19 percent," Cook County Board President Toni Preckwinkle said.
Greenhouse gases are a key factor in global warming.
"The reduction of carbon emissions is crucial to save our planet and local leadership is key in this effort," Preckwinkle said.
The County has invested in renewable energy technology and has increased energy efficiency through measures such as updating building control systems, and replacing and modernizing boilers and chillers. In 2016, the County received $1.1 million in grants and rebates for energy capital improvement projects.
The County is also incorporating sustainable practices into transportation projects and economic development initiatives. Notable projects include:
The Rosemont Transit Center was redesigned and restructured as a major multi-modal transfer station increasing public transportation services for users of the express Pace bus service on the Jane Addams Memorial Tollway.
Cook County invested $18.4 million in seven storm water infrastructure projects to address flooding issues in the south suburbs, with the goal of increasing the County's investment in green infrastructure in future projects.
Other achievements include:
A reduction of the County's vehicle fleet, which has decreased by 197 since 2014. In addition, new purchases include many energy-efficient and hybrid vehicles.
The County's Dunne Administrative Building attained LEED Gold Certification and reported a recycling rate of 52 percent.
With a grant from the federal government, the County assessed 30 brownfield sites, totaling 127 acres in seven west suburban communities. Of those, 117 acres are undergoing redevelopment with the potential to create or retain 200 jobs.
In addition, the County is investing in renewable energy. Cook County has increased its solar energy portfolio with panels at the Domestic Violence and the Bridgeview courthouses. Six electric vehicle charging stations have been installed to improve accessibility to charging stations and help reduce transportation-related greenhouse gas emissions.
The Sustainability Report was authored by the County's Green Leadership Team, which is led by John Keller, Preckwinkle's Chief of Staff.
President Preckwinkle has made sustainability and green practices a priority in her administration. She created the Green Leadership Team, which works with Cook County departments to seek innovative solutions and resources for sustainability programs that foster energy efficiency and decrease pollution.
To that end, the name of the Department of Environmental Control changed in December to the Department of Environment and Sustainability, which better aligns with its ongoing initiatives and broader role. Traditionally, the department was essentially a regulatory agency for suburban Cook County, focusing on environmental inspections and monitoring air quality in the County.