Cook County Announces Digital Terrorism and Hate Interactive Report
Image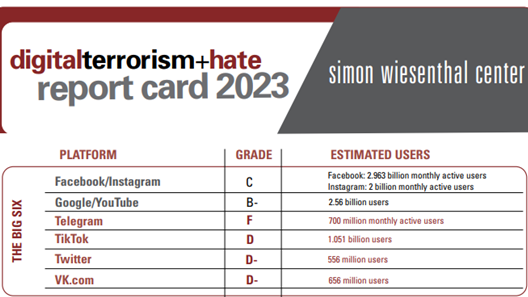 The Simon Wiesenthal Center Digital Terror Report warns of increased online antisemitic, racist, anti-LGBTQ hate and violence against Black, immigrant and Jewish residents 
Cook County Board President Toni Preckwinkle and Commissioner Scott Britton today announced the Simon Wiesenthal Center's (SWC) 28th annual Digital Terrorism and Hate Interactive Report, in partnership with Cook County United Against Hate. The 2023 "Report Card" grades 24 social media, video, gaming, music sharing, and marketplace companies on their failure to curb online hate.
"As the Digital Hate Reports shows us, no place is immune to the surge of hateful rhetoric and hate crimes we are seeing across the nation – and Cook County is no exception," said President Preckwinkle. "We must continue to be vigilant against white supremacist indoctrination in all layers of our society and government. At Cook County, we are committed to fighting racism and hate at its roots and its branches."
"Hate has no home in Cook County," said Commissioner Britton. "This Digital Hate Report Card is a horrible reminder that people of hate will use every means to recruit new members to expand their violent ends. Through Cook County United Against Hate, I am committed to fighting against the wide-reaching impacts of white supremacy, both online and off, through education, targeted investment, prosecution, and legislation."
"With incidents of hate and antisemitism skyrocketing across the U.S., we reiterate our call on social media giants to stop extremists ­– from terrorists to white supremacists to antisemites – from leveraging their powerful marketing platforms used to mainstream hate into our everyday lives," said Rabbi Abraham Cooper, Simon Wiesenthal Center Associate Dean and Global Social Action Director. 
SWC's 2023 Digital Terrorism and Hate Interactive Report warns of increased online antisemitic, racist, anti-LGBTQ hate and violence against Black, immigrant, and Jewish residents. The report spotlights online groups and channels that have become hubs of organization, assembly, and dissemination of material which deride, denigrate, and call for violence against marginalized groups. It exposes Tik Tok for being a "rabbit hole into radicalized echo chambers" of hate; Telegram as the platform of choice for the most dangerous elements of the far-right movement including bomb-making and how to cause the greatest number of casualties in an attack; Twitter, which is mainstreaming hate since Elon Musk's takeover; online resources used to spread real-world hate including the celebration of real-world hate crimes; and the monetization of hate by Amazon in the form of videos, books, Nazi-era jewelry and more.
The Cook County United Against Hate initiative was launched in 2022 to create and amplify visual, educational, and actionable ways to stand up against all forms of racism and bigotry. Through this partnership, the County is elevating opportunities to learn, engage, and take a stand against hatred in all its forms.
The 2023 report comes at a time of unprecedented hate online and off. Chicago Police report an almost doubling in hate crimes committed in 2022 compared to 2021. Any individual in Cook County who has experienced discrimination or harassment based on an aspect of their identity can file a complaint with Cook County's Commission on Human Rights.
Also in attendance was Cook County Commissioner Bridget Degnen, Cook County Commissioner Donna Miller, Vice President of the Metropolitan Water Reclamation District of Greater Chicago Kimberly Du Buclet, Director of Cook County Department of Human Rights Sisavanh Baker, and Rabbi Abraham Cooper, Associate Dean & Director of Global Social Action Agenda, Simon Wiesenthal Center.
The complete 28th annual Digital Terrorism and Hate Interactive Report can be found at: www.digitalhate.net.