Cook County Board President Toni Preckwinkle Legislators and Advocates Celebrate Signing of HB 2790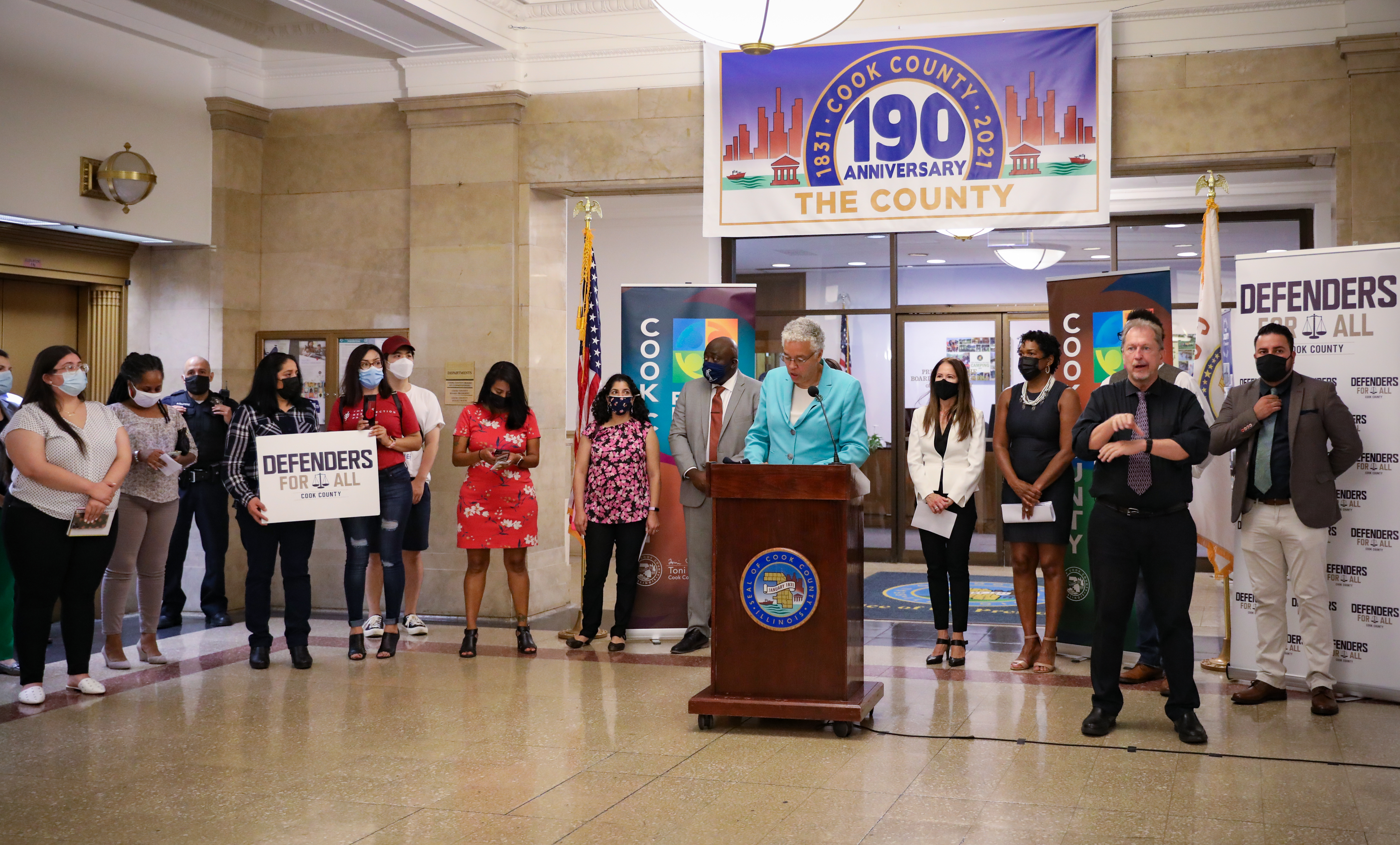 Today, Cook County Board President Toni Preckwinkle was joined by Lieutenant Governor Juliana Stratton, State Senator Omar Aquino, State Representative Jennifer Gong-Gershowitz, Cook County Commissioners Alma Anaya and Brandon Johnson, Cook County Public Defender Sharone Mitchell Jr., and immigration advocates to celebrate Governor JB Pritzker signing HB 2790 last month. The legislation, effective January 1, 2022, will allow for Cook County public defenders to represent individuals facing deportation in immigration court.
Prior to the law, immigrants in deportation cases were not guaranteed the right to an appointed attorney, as in the case for criminal defendants. This legislation builds on the progress of the Cook County Office of the Public Defender's immigration pilot that was launched earlier this year to provide legal advice to noncitizens. Until this change in law, the immigration pilot was limited to advising, but could not provide formal representation in court.
Today's press event was held during Cook County's third annual Racial Equity Week, a week of events that probe the audience to use their imaginations to understand justice and equity issues at the intersections of identities and encourage all to take action.
"I'm grateful to Governor Pritzker, bill sponsors Senator Aquino and Representative Gong-Gershowitz and the many advocates that helped to pass this crucial legislation that will provide necessary legal representation to our immigrant communities in Cook County," said President Preckwinkle. "It's fitting that we celebrate this new law during Racial Equity Week, as this new law moves us another step forward in ensuring that everyone, regardless of their immigration status, is provided with fair representation in our court system and without costing them their status or homes. This is equity in action."
"Throughout my governorship I've proudly worked with the General Assembly to make Illinois the most welcoming state in the nation, signing laws to make Illinois the second state in the nation to require all local officials to end partnerships with ICE by the end of the year, providing undocumented students with access to state financial aid, and now, ensuring individuals facing deportation in our largest county can access public defense," said Governor JB Pritzker. "This new law marks yet another step toward a more just justice system in Illinois, and I'm grateful to the Cook County Office of the Public Defender – as well as Senator Omar Aquino and Representative Jennifer Gong-Gershowitz – for paving the way for progress."
"At any given time, the Cook County Public Defender's Office represents hundreds of non-citizen clients, all of who face serious immigration consequences. Without representation, these individuals' chances at a just outcome severely plummets, not because of the case's specifics, but simply because they do not have legal representation," said Sharone Mitchell, Cook County Public Defender. "We are so thankful for the leadership of President Preckwinkle and the Cook County Board, plus Governor Pritzker and our leaders in the General Assembly in getting us across the finish line with HB 2790. We now have the opportunity to answer the clear call of the community, lead by the Defenders for All Coalition, to start to provide critical immigration legal services to those that need it most."
"Pursuing racial equity is elusive, but the law we celebrate moves us closer to that goal. The public defender's office can help immigrants understand that their choices may also have immigration consequences," said State Senator Omar Aquino (2nd District). "These folks need to consider the implications of a trial and their immigration status since they often navigate the process in a second language. Our justice system should be impartial, and this legislation improves the odds for immigrants to have a fair trial in Cook County."
"Lack of representation in immigration proceedings is just one part of our justice system which is designed to be profoundly disadvantageous to immigrants," said State Representative Jennifer Gong-Gershowitz (17th District). "I'm glad that my colleagues joined with me in working to undo this inequity and take our state one step closer to a system which treats all people impartially."
"With this work, we strengthen the ties that bind our communities and help them thrive. The many vital relationships people carry with each other, as neighbors, family members, caregivers and workers all transcend immigration status and help us persevere, especially in times of crisis," said Avik Das, Executive Director of the Cook County Justice Advisory Council. "Now we can help safeguard these important connections against the disruption and loss that comes with deportation proceedings and their outcomes. Providing Public Defenders help give voice not only to the individuals facing removal, but also all those who rely on their continued presence and contributions in our lives."
"The signage of HB 2790 is a monumental occasion because it marks a huge win for the immigrant community in Cook County," said Cook County Commissioner Alma Anaya (7th District). "Everyone, regardless of immigration status, should have fair representation, and this is a step forward in that direction. I am honored to have been an advocate for this historic legislation and want to thank the numerous supporters including the Defenders for All Coalition and President Preckwinkle's Office for their dedication to protect the rights of all residents in the state of Illinois."
"Although Black immigrants represent just 5 percent of our country's undocumented population, they comprise 10 percent of all immigrants facing deportation," said Cook County Commissioner Brandon Johnson (1st District). "That kind of inequity is inexcusable. No one should face deportation simply because they are poor and cannot afford an attorney. HB 2790 puts us on the path toward providing all immigrants the due process they desperately need and deserve."   
For a full schedule of events and registration details for Racial Equity Week, please visit www.cookcountyil.gov/service/racial-equity.