Cook County kicks off third annual Racial Equity Week; announces Racial Equity Policy and Action Plan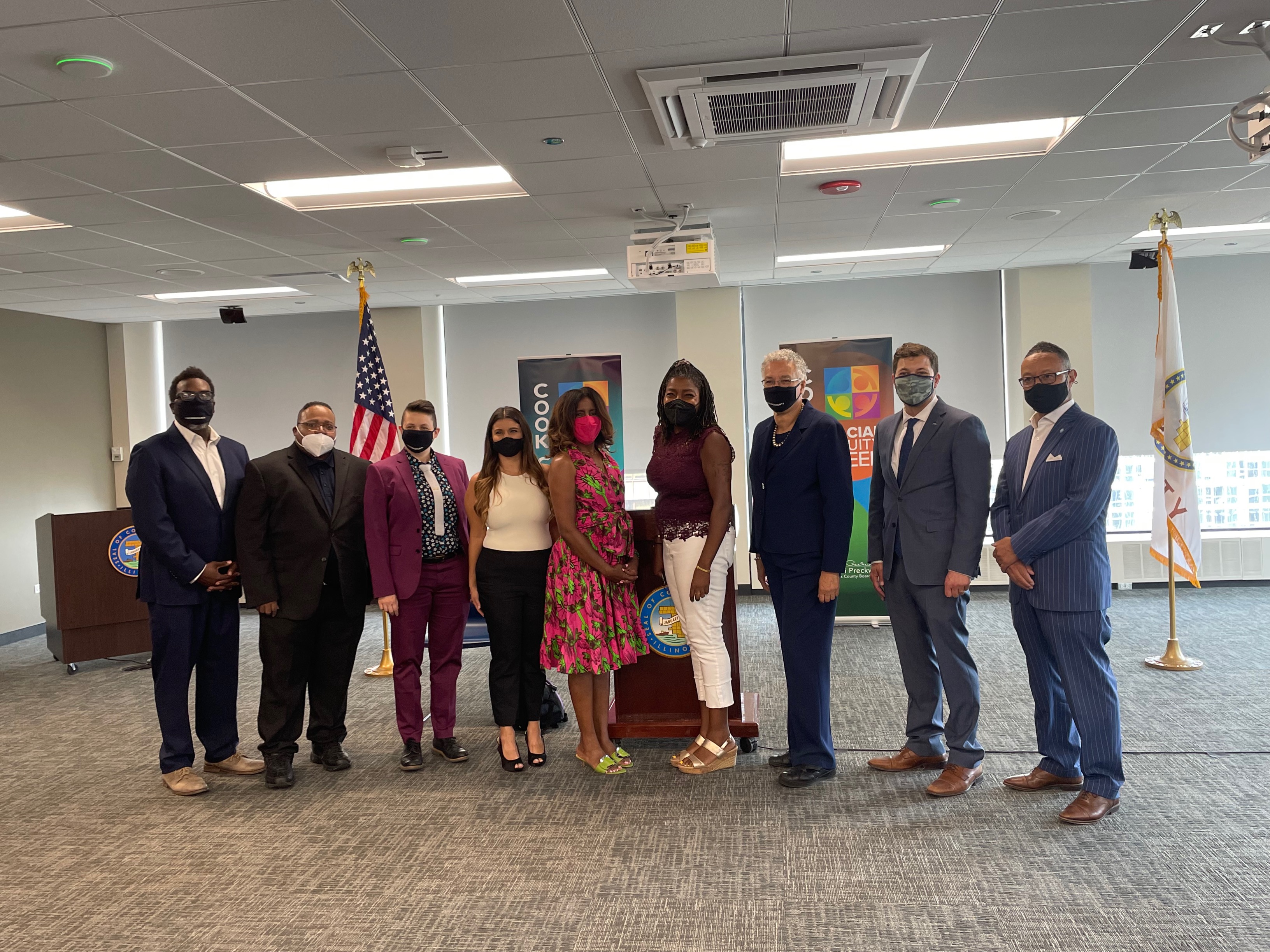 Today Cook County Board President Toni Preckwinkle was joined by Denise Barreto, Cook County Director of Equity and Inclusion and Cook County Commissioners Alma Anaya, Dennis Deer, Brandon Johnson, Bill Lowry, Donna Miller, and Kevin Morrison to kick off the third annual Racial Equity Week.
This year's theme will reflect on three words: "Imagine. Intersect. Act." Cook County Offices Under the President has programmed a week of events that probe the audience to use their imaginations to understand justice and equity issues at the intersections of identities and encourage all to take action. 
"Racial Equity Week serves as a reflection point for Cook County to assess our progress in advancing racial equity in everything we do, through policy and practice. I'm proud that we've been able to make it an annual tradition," said President Preckwinkle. "Additionally, it's simply a great week of programming for employees and residents to engage with our equity work, learn something new, and hear from some wonderful speakers."
At the press conference, President Preckwinkle also announced the implementation of a Racial Equity Policy and Racial Equity Action Plan to ensure that equity is operationalized through Cook County Offices Under the President (OUP). This policy has implemented by Executive Order 2021-2. 
This policy defines equity for OUP as it relates to the formulation of policy, updating policy, and the tangible delivery of government services and resources. It is intended to integrate a racial equity framework for OUP to set and report on goals of training and capacity building of County personnel, racial equity action planning and community engagement.
"This Racial Equity Policy and Racial Equity Action Plan build on strategies we are currently using and seeks to codify them and provide us with a framework for the next several years," said Denise Barreto, Director of Equity and Inclusion. "Publishing these documents will ensure that the work we do will last well into the future." 
The Action Plan outlines five strategies, broken down into action steps complete with a timeline, accountability measures, performance measures, and desired outcomes. The five strategies are:
Introduce and implement Racial Equity Assessment Tool

Create and drive adoption of Racial Equity Policy

Launch Racial Equity training program for employees

Launch and implement Language Access Policy

Create and launch Latinx strategy for administration
"I'm proud to see the arc of our equity work at Cook County and how we've been able to bring our employees, stakeholders, and residents into the process," said Lanetta Haynes Turner, Chief of Staff. "The Racial Equity Policy and Racial Equity Action Plan will be instrumental in guiding our equity work in Offices Under the President for years to come and providing important metrics to measure our progress."
"Racial Equity Week is an important time to reflect on policy and programs to ensure we are creating equitable workplaces," said Cook County Commissioner Bridget Gainer (10th District). "It is our responsibility to strive for equity beyond this week and design systems that will strengthen our commitment to a more just and fair County at all times."
"Cook County's Black and Brown communities have been struggling under the weight of institutionalized racism for generations," said Cook County Commissioner Brandon Johnson (1st District). "By addressing the declining Black population and the gentrification of Brown communities, the equity plan sets the county on a path to recovery. I am proud to see our county government putting racial equity at the forefront of our work." 
"I'm honored to stand with and participate with President Preckwinkle and my fellow Commissioners in Cook County's 3rd Annual Racial Equity Week" said Cook County Commissioner Donna Miller (6th District). "I'm also so proud to represent one of the most diverse districts in the County because throughout my career I've always had a multi-cultural focus on equity and diversity. Cook County draws strength from its diversity and focusing our policies through an equity lens serves to enhance that strength and helps ensure all our residents have the chance to reach their full potential, to let shine the unique strengths that each individual and culture contributes."
"I want to thank President Preckwinkle for working tirelessly to advance racial equity in Cook County," said Cook County Commissioner Kevin Morrison (15th District). "As the creator and co-chair of the Cook County Committee on Addressing Bias, Equity, and Cultural Competency, I've seen firsthand the strides we've made in building a more equitable and inclusive government. But we must continue to do the hard work to root out systemic racism and discrimination."
For a full schedule of events and registration details, please visit www.cookcountyil.gov/service/racial-equity.