President Preckwinkle Announces Small Business Week to Support Local Companies, Entrepreneurs, and County's $29M Investment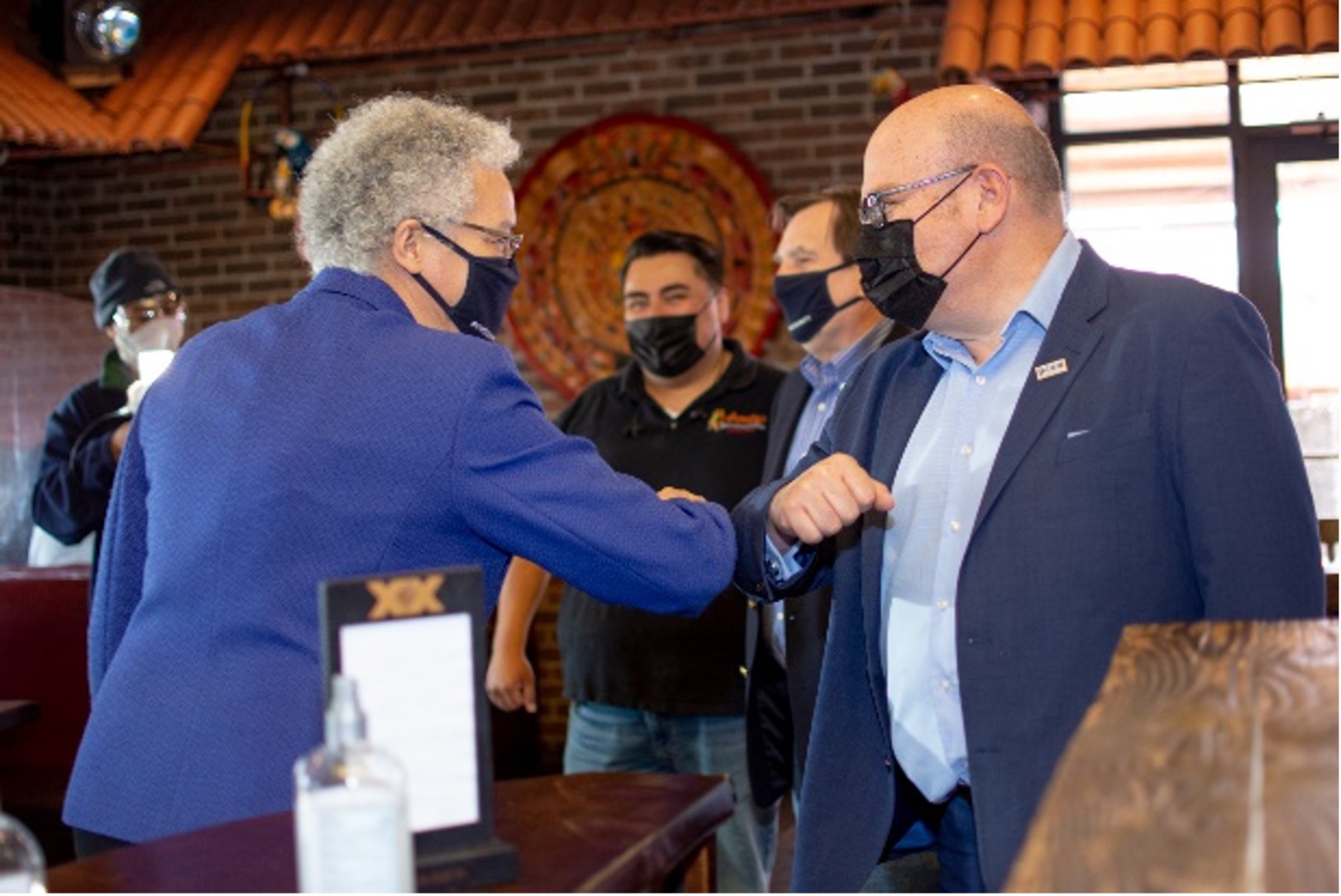 Initiatives provide promotional, educational, and financial resources to help business owners thrive
Cook County Board President Toni Preckwinkle, Commissioners Alma Anaya (7th District) and Brandon Johnson (1st District), and the Cook County COVID-19 Recovery Small Business Assistance program network, today announced its "Together We Thrive" initiative and the official launch of Small Business Week in Cook County. Throughout the week, Cook County will provide events and opportunities for entrepreneurs as well as promote community business owners including Ramon Torres, owner of Aztec Dave's Food Truck, and Verlean Singletary, owner of Da Book Joint (a virtual online bookstore), who are among more than 4000 small business owners who received support from Cook County's Small Business Assistance program.
Last year, the County launched COVID-19 Recovery: Small Business Assistance. To date, the program has assisted nearly 2000 small business owners experiencing financial hardship due to the pandemic with $16.9M in grants. The program also provides support for small businesses impacted by the COVID-19 pandemic by offering pro bono advice, webinars, and educational resources for small businesses in Cook County.
"Over 50 years ago, the U.S. Small Business Administration started celebrating the vital contributions of America's Small business owners and entrepreneurs," said President Preckwinkle. "Today, and all week long, we will celebrate and acknowledge the small businesses that are the backbone of our communities. The small businesses represented here are an excellent example of the time and dedication small businesses make in each of our communities, allowing them to thrive."
Available resources throughout the program include free business advising, webinars, grants, and loan application assistance to aid in economic recovery from the pandemic. Specific Small Business Week resources are also available and include:
Marketing Webinar - A free marketing webinar on Tuesday, May 4, at 9 a.m. to provide small business owners with information and tools on digital marketing to expand their customer bases. To register for the webinar, visit bit.ly/CookCountySmallBizMarketing.
Window Decals - Decals are available to small businesses to promote the "Together We Thrive" initiative and are available to download in English and Spanish. Business owners are encouraged to photograph themselves or their business with the decal and submit the photo to the program's social media accounts for additional promotion throughout the week.
Social Media Graphics - Downloadable, premade social media graphics are available for businesses to post. Click on this link to access graphic images.
Toni's Tips - The "Toni's Tips" social media series features small business recommendations by President Preckwinkle, and showcases some of the business owners who were helped by Cook County's Small Business Assistance program.
Impact Report – A complete report of "Rebuilding Stronger Together," detailing the current impact of Cook County's Community Recovery Initiative programs and its plans to accelerate economic recovery moving forward. The report is available for download at www.cookcountyil.gov/recovery.
 "All of us at Aztec Dave's are very grateful for the assistance we received from Cook County to keep our business running. We wouldn't be able to grow without it. This support was crucial in allowing us to continue to feed all of our wonderful customers, while making their health and safety a top priority," noted Ramon Torres, Owner, Aztec Dave's Food Truck, Inc.
Throughout the week, small business owners are encouraged to contact any of the Cook County COVID-19 Recovery: Small Business Assistance partner organizations to learn more about free resources. Partners include Allies for Community Business, Berwyn Development Corporation, Chicago TREND, Chicago Urban League, the Cook County Black Chamber of Commerce, the Illinois Hispanic Chamber of Commerce, Southland Development Authority, and the Women's Business Development Center.
"Community businesses continue to find ways to survive during this pandemic," said Brad McConnell, CEO of Allies for Community Business. "We're thankful that Cook County has provided such strong leadership in supporting small business owners. A4CB will continue to help our entrepreneurs thrive as we work together to put the pandemic fully behind us."
The program is also made possible by funding and advocacy partners The Chicago Community Trust and Affiliates, Cook County Community Recovery Initiative, Fifth Third Bank, JPMorgan Chase & Co., MacArthur Foundation, Polk Bros Foundation, and Robert R. McCormick Foundation.
For more information about the Cook County COVID-19 Recovery Small Business Assistance program, visit the website at www.cookcountysmallbiz.org.