President Preckwinkle Unveils Comprehensive Cook County Policy Roadmap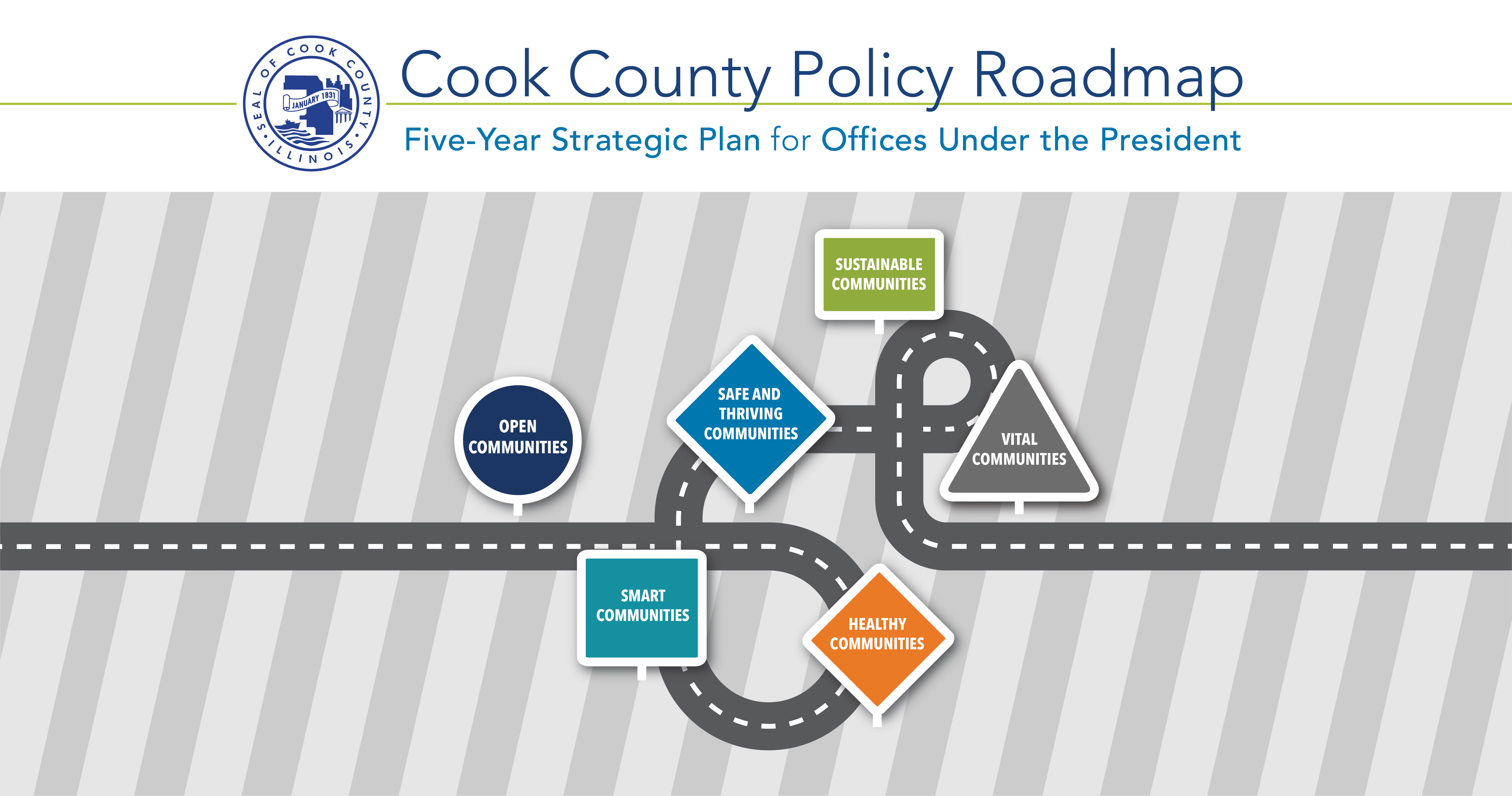 Roadmap aims to combat historic inequality, institutional racism and indifference
Cook County Board President Toni Preckwinkle today unveiled a comprehensive and ambitious Cook County Policy Roadmap: Five-year Strategic Plan for the Offices Under the President.
Uncompromising and directly confronting historical indifference, institutional racism and segregation, the Policy Roadmap outlines objectives and strategies for creating a fairer, more equitable Cook County by building vibrant, sustainable and inclusive communities where people want to live, learn, work and play.
"This Policy Roadmap reflects many voices that share a vision for a prosperous Cook County," Cook County Board President Toni Preckwinkle said. "The need for a caring and fair government has never been greater and has been made clear by the craven and heartless actions of the Trump administration and a spineless Congress. With the Policy Roadmap, we take a deliberative step to show that government should be an instrument for compassion, not cruelty. This plan is a step toward a brighter Cook County and one that is built on a foundation of fairness and equity."
With input from more than 1,500 residents, 60 external partners, 750 employees and 35 philanthropic and community partners, the Policy Roadmap is a collaborative document that sets the Offices Under the President's (OUP) policy agenda in six policy priorities: healthy communities (health and wellness); vital communities (economic and community development); safe and thriving communities (criminal justice and violence reduction); sustainable communities (environmental justice and sustainability); smart communities (public infrastructure); and open communities (operational excellence).
In addition to the goals, objectives and strategies set forth under each priority area, the Policy Roadmap centers on three overall values: equity, engagement and excellence. Together, these policy priorities create a comprehensive agenda to provide innovative and essential services to residents and ensure this region is an exceptional place to live, work, play and visit.
The policy document spans many topics from access to safe housing and addressing violence to the availability of public transportation and nutritional food. Preckwinkle also noted the importance of tackling economic development, job creation, criminal justice reforms, food deserts, access to healthcare, and environmental protections in the comprehensive and ambitious plan.
Specific strategies outlined in the Policy Roadmap also include mandating implicit bias and diversity and inclusion training for all OUP employees and reviewing and revising County policies and procedures to ensure OUP leads Cook County government in operating as a welcoming community.
"Built on the pillars of equity, engagement and excellence, this is a plan that believes in the best of Cook County and the best for Cook County," Preckwinkle said. "Success and opportunity should not be looked at as some finite resource that must be distributed sparingly. It is time to correct historic inequities and make sure our region is working for all residents."
A full version of the Cook County Policy Roadmap: Five-year Strategic Plan for the Offices Under the President is available on the Cook County website. A copy of President Preckwinkle's prepared remarks for the City Club of Chicago are available here.