University of Chicago Center for Effective Government Debuts Civic Leadership Academy's 2023 Cohort
Image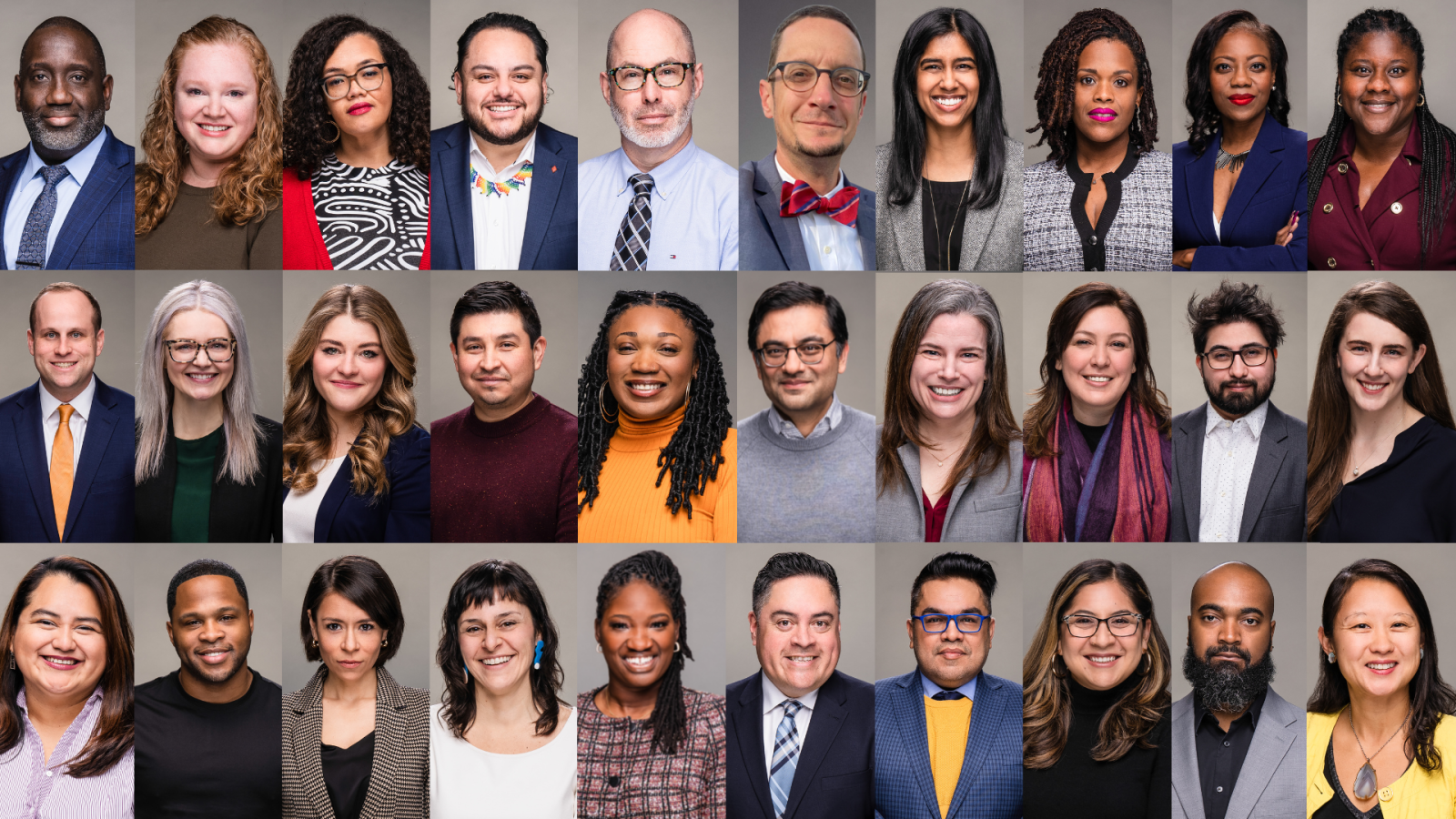 Class of 30 local nonprofit and government fellows embarks on interdisciplinary leadership development program in service of effective governance
CHICAGO, IL — The University of Chicago Center for Effective Government (CEG) at the Harris School of Public Policy today announced its 2023 class of Civic Leadership Academy (CLA) fellows—30 of the area's most promising government and nonprofit leaders—who make up the ninth cohort of the Center's prestigious interdisciplinary leadership development program.
The 2023 cohort, which includes 15 fellows from nonprofit organizations, seven from City of Chicago government, and eight from Cook County government, joins a program that fuels an exchange of ideas across Chicago and Cook County that improves practices and civic outcomes while spurring greater collaboration and innovation across our institutions.
"The Civic Leadership Academy brings together the best and brightest from Chicago's civic sector, and the incoming 2023 cohort is no exception," said William Howell, the Sydney Stein Professor of American Politics at the University of Chicago and director of CEG. "With democratic institutions under threat at home and abroad, these fellows exemplify our aspiration for the kind of capable, thoughtful leadership that effective governance requires."
"The Civic Leadership Academy affords endless possibilities to explore and interrogate the nuances of our work and its impact on our city," said Clancey D'Isa, CLA 2023 cohort member and director of strategy and development at the Seminary Co-op Bookstores. "I am buoyed by all that is possible alongside a cohort of Chicago's most engaged and generative civic, government, and non-profit leaders."
The new cohort joins a network of more than 240 CLA alumni integral to the civic infrastructure of Chicago. CLA fellows and alumni hold positions as change-makers across Chicago and Cook County, advancing reform and spurring progress on a number of critical policy issues.
Ricardo Lopez, ARO project manager at Chicago's Department of Housing and incoming CLA fellow, said, "I am excited to work alongside like-minded individuals and learn from a variety of perspectives. It is both this diversity and our shared passion that sparks curiosity and has the potential to bring forth creative solutions to address our city's top issues."
Last week, fellows began a rigorous six-month program that teaches essential leadership skills and provides the time and space to focus on a specific leadership skill that will directly benefit their work. In addition to attending classes and discussions with world-class University of Chicago faculty, fellows participate in a civic practitioner leadership series—closed-door discussions with key Chicago leaders and CLA alumni—and a week-long global practicum in Paris, where fellows engage with and learn from their counterparts in an international setting. A collaborative, culminating project leverages fellows' cohort experience and the broader CLA network to envision meaningful opportunities for reform in Chicago. Upon completion of the program, they will receive a certificate in civic leadership from the Harris School of Public Policy.
"The 2023 cohort of Civic Leadership Academy fellows is a true reflection of Chicago," said Sadia Sindhu, executive director of CEG. "Through their CLA experience, they'll ask the difficult questions, challenge their assumptions, and ultimately act as instruments of lasting change in partnership with each other and the entire CLA community."
The 2023 Civic Leadership Academy fellows are:
JC Aevaliotis, Program Officer, Polk Bros. Foundations
Nataly Barrera, Portfolio Director, A Better Chicago
Cindy Cambray, Senior Planner, Chicago Metropolitan Agency for Planning
Lizette Carretero, Director of Financial Wellness, The Resurrection Project
Kathy Chan, Director of Policy, Cook County Health
Clancey D'Isa (AM'15), Director of Strategy and Development, The Seminary Co-op Bookstores
Dion Dawson, Founder & Chief Executive Officer, Dion's Chicago Dream
Armando Garcia (AM'21), Director of Health, Outreach, Prevention & Education, Chicago House & Social Service Agency
Raquel Garcia-Alvarez, Policy & Sustainability Manager, Forest Preserves of Cook County
Kenneth Gilkes Jr., Director of Real Estate and Economic Development, ITAV Development
Shelley Hughes, Director of Children's Services and Family Engagement, Chicago Public Library
Nina Idemudia, Chicago Recovery Plan Director, Chicago Department of Planning and Development
Kiran Joshi, Senior Medical Officer, Cook County Department of Public Health
Kristina Kaupa, Director of Policy, Cook County Justice Advisory Council
Ricardo Lopez, ARO Project Manager, Chicago Department of Housing
Michael Martin, Investigator, Cook County State's Attorney's Office
Libby Massey, Deputy General Counsel, Chicago Public Schools
Nick Roberts Mathiowdis, Press Secretary, Cook County Office of the President
Lakisha Mcfadden, CEO/Executive Director, Centers for New Horizons
Kimberly Morris, Director of Real Estate and Community Development, Chicago Neighborhood Initiatives
Shareese Pryor (JD'11), Director & Senior Staff Counsel for Criminal Legal System and Police Accountability, Business and Professional People for the Public Interest (BPI)
Meera Raja, Vice President for Deep Tech, P33
Lauren Raymond, Policy Director, Cook County Bureau of Human Resources
Chelsea Ridley, Project Director, "North Lawndale Reads," Open Books and Lawndale Pop-Up Spot
Luis Roman, Program Officer, JB and MK Pritzker Family Foundation
Vernon Schleyer, Assistant Public Defender, Law Office of the Cook County Public Defender
Jamie R. Simone, Deputy Commissioner for Strategic Initiatives, Chicago Department of Transportation
Lynsey Sloan, Associate Vice President for Statewide Foster Care, Children's Home & Aid
Jarrod L. Smith, Commander, Chicago Police Department
Jorge Valdivia (MPP'22), Executive Director, The Chicago Latino Theater Alliance
The 2023 cohort of CLA fellows will be introduced at a ceremony featuring remarks from Chicago Mayor Lori Lightfoot (JD'89) and Katherine Baicker, dean and the Emmett Dedmon Professor at the Harris School of Public Policy. Jermaine Harris (CLA'19), Lieutenant of Police, Chicago Police Department, will deliver an alumni address on behalf of the broader CLA community, and Cook County Board President Toni Preckwinkle (BA'69, MAT'77), will deliver remarks to the incoming cohort at a private reception preceding the ceremony. The event will be held this evening, January 12th, at 5:30 pm at the Chicago Cultural Center. In-person attendance is limited to invitation-only; members of the public are invited to register virtually for the livestream here.
"We are delighted to welcome this new cohort of local leaders to campus, where they will gain invaluable perspective, enhance their skills, and expand their networks in service of a stronger and healthier city through CLA," said Baicker. "Their efforts extend Harris' mission, adding to our deep and broad engagement in policy arenas across Chicago."
The Civic Leadership Academy is made possible through generous support from the Harris School of Public Policy, Harris Family Foundation, Searle Funds at the Chicago Community Trust, Walder Foundation and Waraich Family Fund, and has presented named fellowships to the following individuals: The 2023 Walder Foundation Fellows are Armando Garcia (AM'21) of the Chicago House & Social Service Agency and Jorge Valdivia (MPP'22) of the Chicago Latino Theater Alliance, and the 2023 Waraich Family Fund Fellow is Kenneth Gilkes, Jr. of ITAV Development. Additionally, Chelsea Ridley of Open Books and Lawndale Pop-Up Spot is the recipient of the Jessica Bryar Scholarship, named in honor of CLA 2017 alumna Jessica Bryar, who passed away in 2019.