high-level alert:
FEMA Assistance Available to Cook County Residents Impacted by Flooding
Cook County Hospital Central Campus Redevelopment
Cook County Hospital Central Campus Redevelopment
For more than 180 years, Cook County has provided a safety net for health care in the Chicago region delivering services with dignity, regardless of a patient's ability to pay. With this mission in mind, the Cook County Board of Commissioners approved the engagement of the Chicago Consultants Studio, Inc. in 2014 to help unlock the value of Old Cook County Building and leverage the inherent real estate value from the available land. 
The strategic development management team articulated the vision of the County Board President, the County Commissioners and the Cook County Health and Hospital System leadership, providing the development parameters to help identify core medical needs at Stroger Campus and identify real estate available for redevelopment to both enhance the overall site and provide revenue sources through mixed use development. The ribbon was cut on the Professional Building on October 28, 2018.
The other component of an ambitious plan for County property on the Central campus was the redevelopment of Old County Hospital, now known as Harrison Square. Two parallel RFP solicitations, one for a new clinical and professional building and one for the market rate mixed-use project, grew out of the work noted above. The Department of Real Estate Management and consultants held a design charrette with active involvement from the community and leading civic organizations, leading to an award-winning design for Harrison Square. For more information, please contact Jessica Caffrey, Director, Real Estate Management, Bureau of Asset Management at: Jessica.Caffrey@cookcountyil.gov.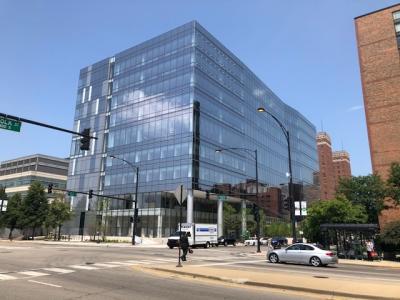 Professional Building, Cook County Health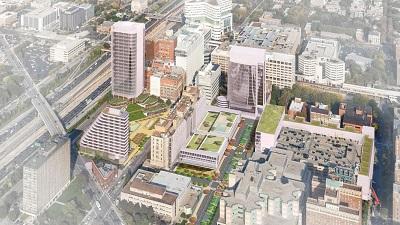 Rendering of the new campus area, courtesy of the  Chicago Consultants Studio.
Information Archive: