high-level alert:
FEMA Assistance Available to Cook County Residents Impacted by Flooding
Public Art in Cook County Buildings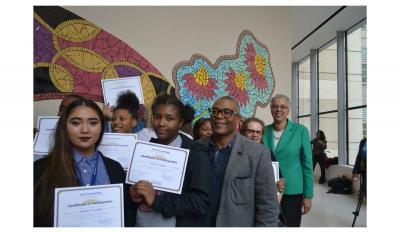 Public Art in Cook County Buildings
The Bureau of Asset Management is committed to providing art in new public buildings for the enjoyment and enrichment of those visiting Cook County facilities. 
Pictured above is the dedication of the mural in the lobby of the Professional Building for Chicago Health on October 19, 2018. Work on the project included the Chicago Public Art Group artists Mirtes Zwierzynski and Sonja Henderson, and involved students from Crane Tech High School to assist in installation, following a recommendation from Alderman Walter Burnett. The students added the Purple Coneflower, the official flower of Cook County (shown in photo, upper right).