high-level alert:
FEMA Assistance Available to Cook County Residents Impacted by Flooding
Reuse - What is it?
Before you choose to demolish your building consider reuse and deconstruction… 
What is reuse?
Reuse is exactly what it sounds like. Instead of throwing out items like clothing, food jars, building materials, demolition debris or furniture, consumers can find new uses for them.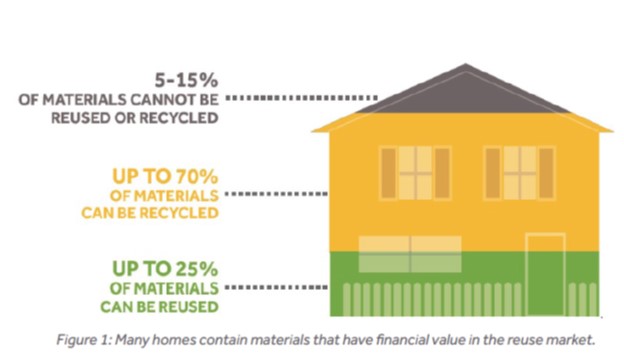 Why should I care about reuse?
Under Cook County's Demolition Debris Diversion Ordinance, the demolition permit holder is subject to a minimum five percent (5%) by weight reuse requirement for residential structures, except garages, sheds, utilities, and projects that are not demolishing any load bearing walls.
What are the benefits of reuse?
Reduces consumption of new resources
Prevents usable goods from going into landfills
Donation of materials assists those in need
Tax benefits may be available
LEED points may be awarded by U.S. Green Building Council
What building material and items are good candidates for reuse?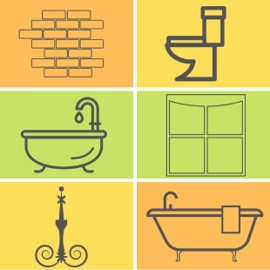 appliances 
bathtubs
bricks
dimensional lumber
doors
kitchen cabinets
light fixtures
marble
sinks
toilets
windows
wood flooring
concrete
How can these items be reused?
Salvaged materials can be donated, sold, reworked into current projects or saved for later use.
Where can I donate items for reuse?
Reuse warehouses. Reuse warehouses store and sell a wide variety of source materials to the general public. They are often nonprofit organizations, and most of their materials are donated. Nonprofit and for-profit reuse warehouses are listed below.
Disclaimer: These sites are listed for informational purposes only. Cook County does not endorse any of these entities nor their services nor does Cook County make any warranties regarding the reliability or accuracy of this information. This list is not guaranteed to be current or complete.
Evanston ReBuilding Warehouse in Evanston, IL
Habitat for Humanity in Elgin, IL 
Habitat for Humanity in Chicago, IL 
Habitat for Humanity in Chicago Heights, IL 
Rebuilding Exchange in Chicago, IL
The ReUse People ReUse Depot in Maywood, IL
How may I receive potential tax benefits from reuse?
Find an IRS-qualified charitable organization that will accept the materials
Pick an experienced deconstruction contractor
If materials are valued over $5,000, an IRS-qualified appraiser is needed
Save all receipts from this process (required for donations larger than $250)
Visit the IRS website for specific tax information

For information on noncash charitable contributions: https://www.irs.gov/pub/irs-pdf/i8283.pdf
For the noncash charitable contribution form: https://www.irs.gov/pub/irs-pdf/f8283.pdf
For filing itemized deductions: https://www.irs.gov/pub/irs-pdf/f1040.pdf
Information provided should not be used as a substitute for legal, business, tax or other professional advice.
What is deconstruction?
Deconstruction is different than demolition. Deconstruction is the process of systematically dismantling structures in a way that enables materials to be reused or salvaged. Do I need a permit?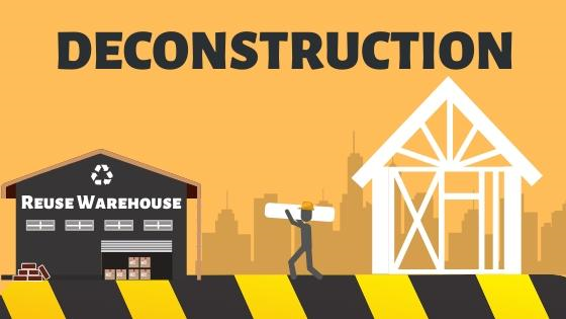 What are the benefits of deconstruction?
Reduces the need for extraction of raw materials for new construction
Conserves the energy and natural resources used in the manufacturing of new building material
Prevents environmental pollution by diverting waste
Increases the longevity of landfills
Prevents harmful dust from releasing such as lead dust, asbestos, hydrocarbons, nitrogen oxide, sulfur oxide, and carbon monoxide  
Creates jobs because more hands are required to dismantle a building
Items can be donated to a qualified 501(c)3 charity and claimed by the property owners on their taxes as a donation at fair market value

How long does it take to deconstruct a building?
Estimates for a single-family home are two weeks longer than demolition. However, this will depend on the size of the building, logistics, permitting and several other factors.
How much does it cost to deconstruct a building?
It varies based on numerous factors, including whether you use a workforce training crew vs. private crew, the size of the building, location, percentage of salvageable materials and more.
Related Links:
Building Materials Reuse Association
Delta Institute Deconstruction and Reuse Guide
Delta Institute Deconstruction and Reuse Toolkit