Charlotte, NC Assistant Public Defender on podcast "Stand With Them"
Check out the interview with Toussaint Romain in NAPD's New Podcast "Stand With Them". Click on this link http://soundcloud.com/user-295015148/toussaintpodcastfinal/s-umum2 to listen or download.  Coming soon to ITunes.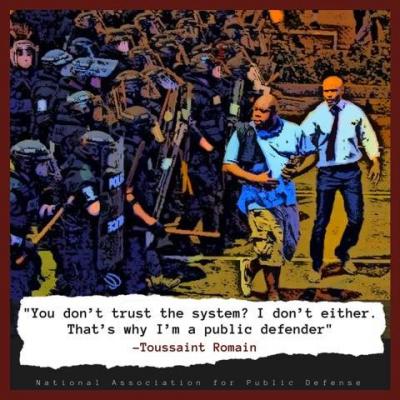 The first episode of this podcast features Toussaint Romain, an Assistant Public Defender in Charlotte, North Carolina. In addition to being a public defender and a professor at the University of North Carolina at Charlotte, Toussaint is a community leader: pushing for positive change in the community that he loves.
 
Recently, Toussaint made national headlines by holding the line between protestors and police officers in the protests that followed the police shooting of Keith Lamont Scott, all while rocking a dress shirt and tie. This episode focuses on Toussaint's views of the shooting, the protests that followed, and his vision for public defenders and other members of the public defense world. His interview is a message of hope, filled with words of encouragement to keep you going even on the toughest days.
-Credit NAPD.