President Preckwinkle Appoints New Chiefs for County's Bureaus of Finance and Administration
Image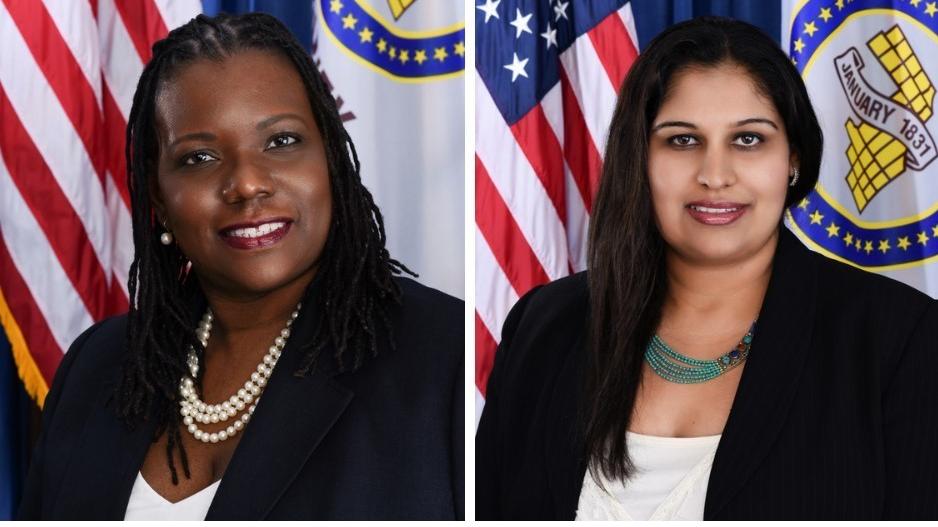 Tanya Anthony and Zahra Ali bring track records of success to their new roles
Cook County Board President Toni Preckwinkle announced the appointments of Tanya S. Anthony (left) to Chief Financial Officer (CFO) of the County's Bureau of Finance (BOF) and Zahra Ali (right) to Chief Administrative Officer (CAO) of the County's Bureau of Administration (BOA) today. The two will assume their new roles on January 1, with confirmation from the Board of Commissioners expected at the January board meeting.
"I am truly grateful for the work Tanya and Zahra have done to ensure that the County meets its obligations to our residents," President Preckwinkle said. "They have dedicated their careers to public service and have initiated programs that put the well-being of our residents first. Their experience, dedication and professionalism make them the ideal choice to lead the Bureaus of Administration and Finance."
Anthony was chosen for the role after a County-hired executive search firm conducted a nationwide search to fill the CFO position. Her credentials and experience stood out among the pool of highly qualified candidates.
Anthony has dedicated her career to public service with roles in budget and administration both at the County and the City of Chicago. She returns to the Bureau of Finance after three years as the County's CAO. In her role as CAO, Anthony has led the BOA's 12 departments and divisions, with a budget of more than $600 million and workforce of over 650, providing strategic oversight for programs and initiatives. Anthony oversaw the bureau's response to the COVID-19 pandemic, working with the Department of Emergency Management and Regional Security and the Medical Examiner's Office to establish a fatality management plan ensuring that decedents in Cook County were treated with dignity and respect. As CFO, she will be responsible for setting financial strategy that addresses the long-term fiscal health of the County.
Before taking on the role of CAO, Anthony served as the County's budget director within the BOF from 2015 – 2020, working collaboratively with departments throughout Cook County to pass five budgets, helping to close $790 million in budget gaps, establishing standards to address pension liabilities and ensuring transparency and accountability by launching the County's first interactive budget website.
In October, Crain's Chicago Business named Anthony one of Chicago's Notable Military Veteran Executives, recognizing her service to the community and dedication to providing opportunities for veterans.
Before coming to the County in 2015, Anthony served as budget director and chief administrative officer for the Chicago Park District. She's also worked in Chicago's Office of Budget and Management, the Chicago Fire Department and the Cook County Department of Corrections. Anthony started her career serving in the U.S. Army.
She holds a Master of Public Administration, Master of Business Administration Management, a Bachelor of Arts in Criminal Justice and Project Management Professional (PMP) certification.
Anthony succeeds Ammar Rizki who left the County to join the Obama Foundation as CFO in June of this year. Lawrence Wilson is serving as interim CFO until Anthony assumes the role in January. Wilson will resume his duties as the County's comptroller at that time.
Ali will take the helm as the County's CAO upon Anthony's departure to the BOF. She began her career with the County in 2002 with roles in budget and revenue. She currently serves as deputy chief administrative officer for the BOA where she launched a strategic planning process for all the bureau's departments and divisions, initiated process improvements and guided departments through the budget, human resources and procurement processes.
Before joining the BOA, Ali served as director of the County's Department of Revenue beginning in 2010 and served as liquor commissioner. While leading the department, Ali created and optimized processes, garnering national recognition and awards. She launched and implemented a COVID-19 financial relief package for more than 100,000 residents and over 4,000 businesses around the County; led the development and implementation of the 2018 Video Gaming License Ordinance, 2019 Cannabis Tax Ordinance and other legislation, increasing revenue by more than $15 million; and modernized and streamlined a variety of payment systems, taking them online.
Ali holds a Master of Business and Administration in Finance and a Bachelor of Business Administration in Finance.
The departments under the Bureau of Finance, including Revenue, Risk Management, Budget and Management Services, Comptroller, Contract Compliance and Procurement, work to ensure the fiscal stability and sustainability of the County.
The Bureau of Administration functions include Animal and Rabies Control; Emergency Management and Regional Security; Environment and Sustainability; Law Library; Medical Examiner; Research, Operations and Innovation; Transportation and Highways; Printing and Graphics Services; Fleet Management; Child Support Enforcement and Veterans Affairs.
###