President Preckwinkle Launches $20 Million COVID-19 Recovery Mortgage Assistance Program for Residents of Suburban Cook County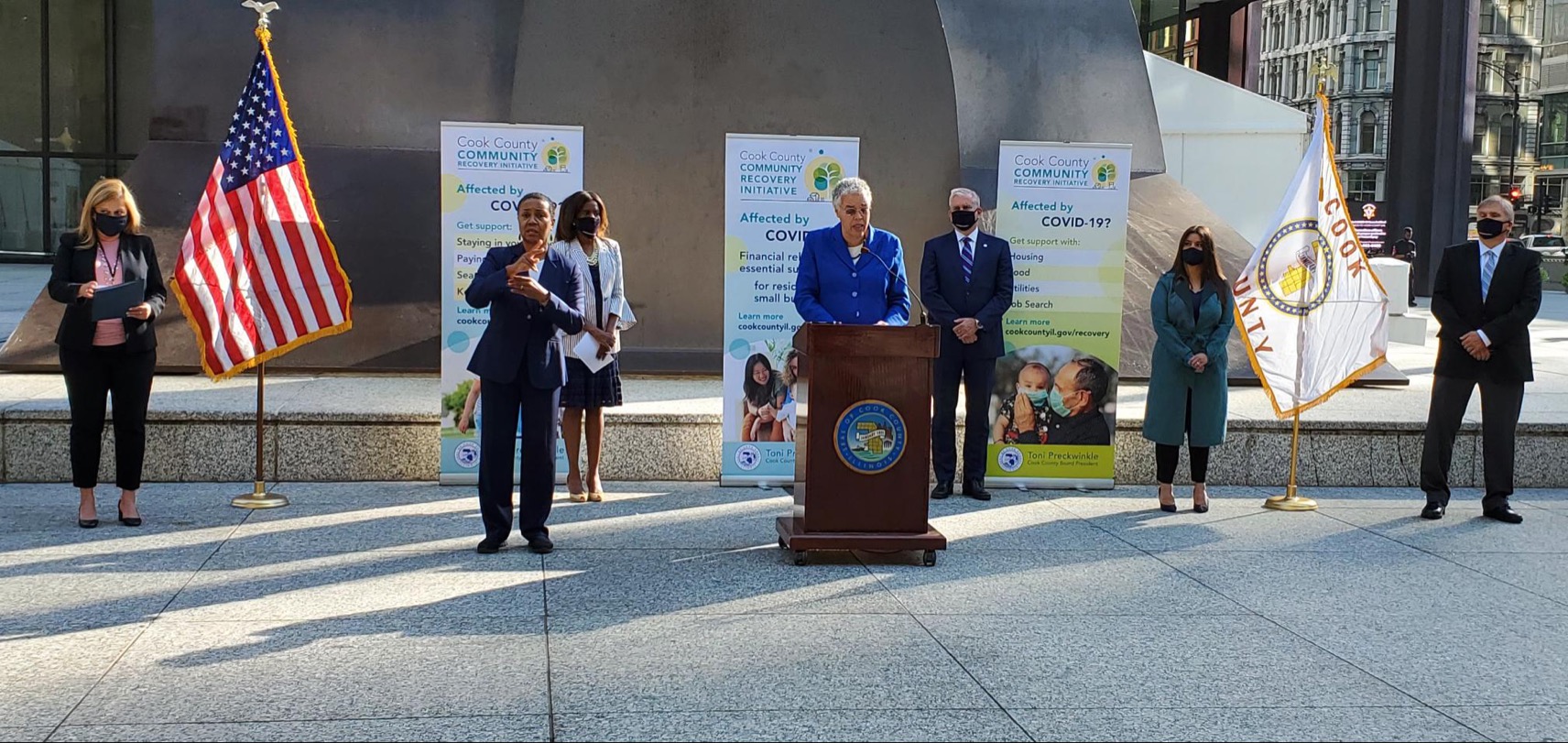 Cook County Board President Toni Preckwinkle, the Cook County Bureau of Economic Development and the Housing Authority of Cook County (HACC) announced the launch of the $20 million Cook County COVID-19 Recovery Mortgage Assistance program to help suburban Cook County residents experiencing financial insecurity due to the COVID-19 pandemic.
Funded by the federal Coronavirus Aid, Relief and Economic Security (CARES) Act, the program pays one to three months of overdue or future mortgage payments for income-eligible households. The program is expected to assist between 2500 and 3000 homeowners. Payments will be made directly to mortgage servicers up to a total of $10,000.
"The pandemic is far from over. This mortgage assistance program will provide much-needed relief to families in suburban Cook County impacted by COVID-19," said President Preckwinkle. "We must do whatever it takes to help people stay in their homes and keep their families safe. This plan will offer protection to homeowners and empower them to keep making mortgage payments."
This program serves as a complement to the Emergency Rental Assistance Program, launched in August. Under this earlier program, $20 million in rental assistance is being distributed to income-eligible renters throughout suburban Cook County. Renters, however, are not the only households who face the possibility of housing instability: by some estimates, up to 20% of mortgage-paying homeowners nationwide have missed a mortgage payment.
"We recognize the critical importance of residents remaining in their homes, especially as the pandemic persists," said Xochitl Flores, Bureau Chief of Economic Development. "The County remains committed to addressing the needs of residents and providing direct mortgage assistance, eviction prevention, and housing stabilization services to the residents of suburban Cook County."
The funding will be available to households with incomes under $127,400, a number derived from 140% of area median income (AMI) in the Chicago metropolitan area for a family of four. With 25% of the funding reserved for families whose incomes are under 80% of the AMI. An additional 25% will be targeted at what is called Disparately Impacted Areas. These areas, designated by the State of Illinois, help to direct funding to areas that have both a high COVID-19 case count and a high level of economic insecurity. These set-asides will ensure that the most vulnerable homeowners in the County receive the support they need.
Residents can review their eligibility and apply for mortgage assistance at www.cookcountyil.gov/recovery. The application period opens on October 9, 2020, and will close on October 16, 2020. The online portal is available in many languages, including Spanish, Polish, Russian, Korean, Chinese, Arabic, and Hindi.
Payments will go out on a rolling basis as quickly as possible to provide timely relief.
The Housing Authority of Cook County (HACC) will administer the funds. HACC currently provides partial rent payments to private landlords on behalf of nearly 15,000 Cook County residents as part of the Housing Choice Voucher Program and previously executed the distribution of rental assistance as part of the County's Emergency Rental Assistance Program.
"We are proud to be a part of this relief effort," said HACC Executive Director Rich Monocchio. "Housing affordability has been a major concern throughout Cook County for a long time, but this pandemic is bringing the crisis to a new level. Stable housing is a crucial element of public health, and we are all seeing firsthand how badly Cook County families need a lifeboat to weather this storm. Our staff will be working diligently to get this funding to where it's needed as efficiently as possible."
The Mortgage Assistance Program is a part of Cook County's COVID-19 Recovery Initiative, which includes zero-interest loans for small businesses and contractors, emergency housing for shelter residents, and those re-entering from the justice system, and tax relief for businesses. For more information, visit www.cookcountyil.gov/recovery.