Office of Research, Operations and Innovation - ROI
Office of Research, Operations and Innovation - ROI
About the Office of Research, Operations and Innovation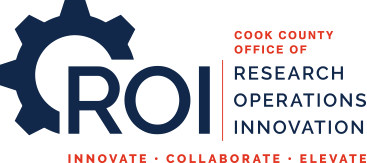 The Office of Research, Operations and Innovation (ROI) was created in 2019 to improve operational efficiencies and services while reducing costs and enhancing customer experiences for all departments and agencies under Cook County government.
What we do
Collaborate with County agencies to identify opportunities for improvement and adapt or implement creative, data driven and comprehensive solutions to improve County service delivery and increase workplace productivity.
Inspire, empower, encourage and enable employees to identify challenges in their daily work processes and develop creative, innovative solutions to overcome those challenges.
Elevate operational effectiveness and optimize the use of County resources through collaborative engagement and data driven, innovative solutions.
Train employees on standardized structured problem-solving methodology and tools used for continuous process improvement.
Facilitate cross-departmental and inter-departmental process improvement projects.
Monitor and track all implemented innovations.
Cook County Annual Performance Report
As mandated in the Performance Management Ordinance, Cook County publishes an Annual Performance Report for all offices within Cook County Government. Read our latest Annual Report for Fiscal Year 2020. This report can also be viewed as a PDF. For more information, explore Performance Dashboards for each department under Offices of the President.  
Agency Head
Jerry Pray, Director of Research, Operations and Innovation