high-level alert:
FEMA Assistance Available to Cook County Residents Impacted by Flooding
Subscribe to our mailing list for updates from the Justice Advisory Council.
The Justice Advisory Council (JAC) coordinates and implements Cook County Board President Toni Preckwinkle's criminal and juvenile justice reform efforts and community safety policy development. The work of the Justice Advisory Council is guided by the county's Policy Roadmap which identifies a central priority of building safe and thriving communities throughout Cook County.
Mission
To promote equitable, human-centered, community-driven justice system innovation and practice through rigorous stakeholder engagement, policy work, service coordination, and grantmaking that increases community safety and reduces reliance on incarceration.
Vision
Our vision is for Cook County to be a leader in reimagining and restructuring systems of justice to improve conditions and outcomes for individuals involved in the justice system and communities most impacted by it. Mass incarceration destabilizes families and communities. Proactive and strategic investments in violence prevention, recidivism reduction and restorative justice support those at risk of involvement with the criminal justice system and bring about a more equitable system of justice and safer communities for all.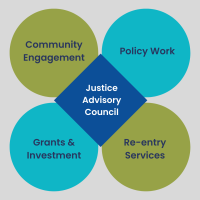 The Justice Advisory Council has four major areas of focus:
Policy Work
In collaboration with governmental and non-governmental stakeholders, the Justice Advisory Council devises, supports, and advocates for administrative reform within Cook County, as well as legislation which improves conditions and outcomes for justice system involved individuals. All policy efforts are made with the goal of identifying disparities and advancing equity within the justice system.
Electronic Monitoring in Cook County
Behavioral Health Crisis Response in Cook County
Factsheet on the Illinois Pretrial Fairness Act
Grants and Investment
Through grantmaking, the Justice Advisory Council supports Cook County's commitment to advancing equity. The JAC manages a portfolio of grants, primarily awarded to community-based organizations who work in geographic areas that have experienced historic disinvestment. The overarching goal for grantmaking is to invest in programs and strategies which improve community safety and decrease reliance on the criminal justice system. Grant funded programs focus on violence prevention, services for returning residents, recidivism reduction, restorative justice, as well as other community needs.
Learn more about grants and investments.
Reentry Service Coordination
The Justice Advisory Council works to identify gaps and areas of need within the justice system that could be addressed through programs or services. The JAC explores policy or programmatic solutions and directly coordinates services when necessary. Service coordination supports the goals of safely reducing pretrial detention rates and improving conditions and outcomes for justice system involved individuals.
Community Engagement
The Justice Advisory Council is committed to all work being community-driven and human centered. We hold the foundational belief that criminal justice reform efforts should prioritize the needs of communities disproportionately impacted by crime and incarceration. Through a structured community engagement strategy, the JAC collects and distills community input to guide grantmaking and policy decisions. Other community engagement priorities include amplifying community voices and providing education around criminal justice reform efforts and outcomes.
History & Authority
In 1931, the State of Illinois passed a law creating judicial advisory councils in each county and the Cook County Board of Commissioners followed, adopting a resolution to create such a council in Cook County.
In 1975, the Cook County Board of Commissioners passed an ordinance, clarifying the mission of the Judicial Advisory Council as: to devise means to effect the improvement of the administration of justice in and with relation to the County, and to formulate all proper suggestions and recommendations concerning legislation and other measures designed to bring about such improvement.​
In 2010, current Cook County Board President Toni Preckwinkle worked to prioritize criminal justice reform.
In 2014, via Cook County Ordinance Amendment 14-0292, the council was renamed the Cook County Justice Advisory Council to better reflect its current mission and work.
In 2015, Cook County entered into the MacArthur Foundation's Safety and Justice Challenge, which focuses on developing strategies for reducing jail incarceration and increasing equity and community engagement in justice work. The Justice Advisory Council was identified as a partner in this work.
Illinois Statute (55ILCS 5/5-18001 et. seq.) and Cook County Ordinance (Chapter 5, Section 161-163) empower the Cook County Justice Advisory Council to carry out its mission.
Connect
Subscribe to our mailing list for updates from the Justice Advisory Council.
Justice Advisory Council staff can be reached at (312) 603-1133 or JAC.Info@cookcountyil.gov. 
Media Contact: Laura Grossman, Public Information Officer, laura.grossman@cookcountyil.gov.
Location Title
Main Office
Location Hours
Wednesday:
8:30 am-4:30 pm
Thursday:
8:30 am-4:30 pm
Agency Head
Avik Das, Esq, Executive Director