high-level alert:
FEMA Assistance Available to Cook County Residents Impacted by Flooding
Fair Transit Public Engagement
Fair Transit Public Engagement
Assessing public awareness and participation is a critical component of the pilot's value and effectiveness. Cook County and the participating transit partners continue to engage with community organizations to share information with their networks at each pilot milestone.

Outreach Activities 
Pop-up Events: The outreach team visited over 10 community events throughout the south side of Cook County in summer 2021 to bring awareness to the program. Events included farmer's markets, 5k races, festivals, and more.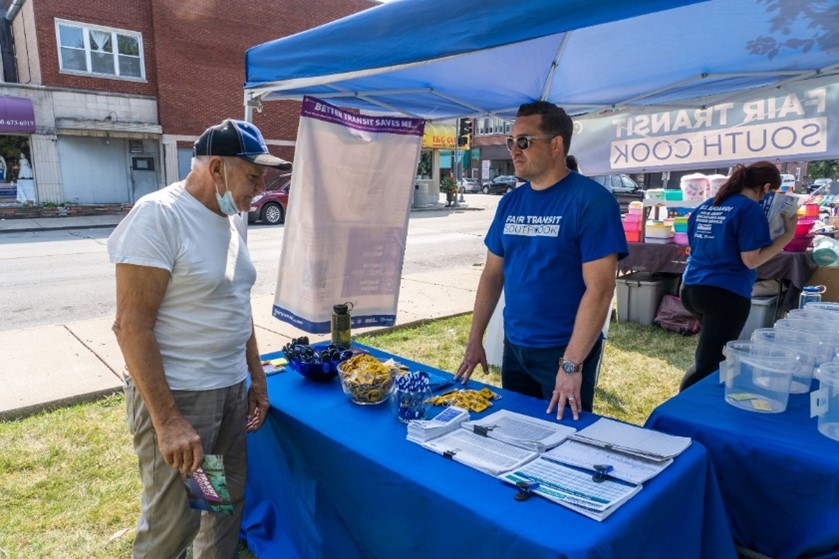 Postcard Distribution at Vaccine Sites: Informational postcards and branded hand sanitizer were distributed at 5 County mass vaccination sites.
Fair Transit Intercept Surveys: Outreach teams went to high-traffic transit locations to raise awareness of the fare discounts and service improvements. The intercept teams spoke with about 31 transit riders in one-on-one interviews.
Fair Transit Business Outreach: Ninety businesses within the pilot area were contacted to share information about the pilot and over 50 businesses responded requesting more information.
 
Awareness Building Advertisements: Promotional ads were placed on 25 Pace Bus shelters, on the sides of 25 Pace buses and on 15 Metra viaducts overlooking major roadways throughout the pilot area. 
Virtual Community Partner Meetings
The last community partner meeting was held on July 15, 2021. Pilot progress, available data and the team's summer outreach plans were discussed.
View the presentation that was shared: Summer 2021 Fair Transit Community Partner Meeting

The first community partner meeting was held in November 2020 to preview pilot details and the launch event.
View the summary from the community partner meeting: English | Español
View the presentation that was shared: Community Partner Pre-Pilot Preview
Surveys
The Fair Transit team is learning about residents' travel needs by conducting online surveys throughout the span of the project.
Please continue to check back for our next survey opportunity.