high-level alert:
FEMA Assistance Available to Cook County Residents Impacted by Flooding
Market Rate Development
Old Cook County Building
The Cook County Board of Commissioners approved the engagement of the Chicago Consultants Studio, Inc. in 2014 to help unlock the value of Old Cook County Building and leverage the inherent real estate value from the available land. The county real estate team and 
consultants held a design charrette to see if it was feasible to rehabilitate the over 100 year Beau art building. It included active community participation. Five civic groups were engaged, as well as adjacent neighbors and residents. They demonstrated it was financially feasible to rehabilitate the Old Cook County Building with historic tax credits. These concepts were incorporated into a development offering which included the Old Cook County Building, de-commissioned buildings on the campus, and excess land. This is a multi-phased development starting with the renovation of the Old Cook County Hospital Building first.  Through an extensive Request for Proposal process, the Civic Health Development Group was selected. The project closed May 2018.  Construction is underway. The project is now known as Harrison Square. 
For more information, please contact Jessica Caffrey, Director, Real Estate Management, Bureau of Asset Management at: Jessica.Caffrey@cookcountyil.gov, or at the project e-mail address:  CC.StrogerRedev@cookcountyil.gov.  To contact Real Estate Management by phone, please call: 312-603-0400.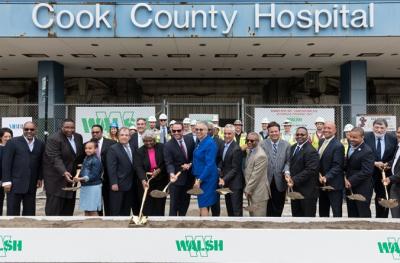 Sun-times: 1/11/2018 - SNEED: Developer plans to make old county hospital a community anchor
Review Presentation from 5-10-2018 Workforce Fair - Old Cook County Hospital Redevelopment (mixed use)
Upcoming Projects
Strategic Planning and Feasibility Analysis of Oak Forest Campus
Reduction in Square Footage - downtown campus, warehouse reduction, other reductions
Partnership with the Village of Rosemont and collaboration with the Department of Transportation & Highways for a multimodal transit oriented development.