Invest In Cook
Service Information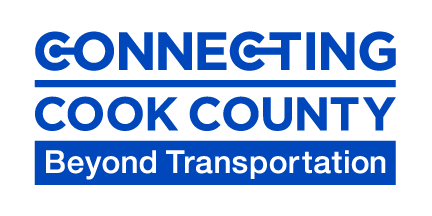 2023 APPLICATIONS OPEN
The Cook County Department of Transportation and Highways (DoTH) has announced a 7th round of Invest in Cook, an $8.5 million grant program to help local governments and agency partners further their transportation projects by covering some of the cost of planning and feasibility studies, engineering,
right-of-way acquisition and construction associated with transportation improvements. This program seeks projects consistent with the five priorities of Connecting Cook County, the County's first long range transportation plan in 75 years, as well as the recommendations of more specialized Cook County transportation plans.
Invest in Cook prioritizes proposals that support transit and other transportation alternatives, support the region's role as North America's freight capital, promote equal access to opportunities, maintain and modernize what already exists and increase investments in transportation.
Eligible Applicants and Projects
Eligible applicants include local governments, regional transportation authorities, transit agencies, natural resource or public land agencies as well as any other local or regional governmental entity with responsibility for transportation or recreational trails within Cook County. Private for-profit or nonprofit organizations can submit project proposals as a lead applicant, but they are required to partner with a public sponsor that meets the above criteria. Municipal and Township applicants are limited to a single project application. Due to funding source limitations, the program cannot consider proposals for electric vehicle infrastructure at this time. Staff salaries, the purchase and/or maintenance of rolling stock (rail cars buses, vans, etc.) and stand-alone lighting projects are not an eligible expense under the Invest in Cook program.
To foster the development of quality projects and help projects meet qualifications required to receive federal funding, applications can be submitted for projects at any stage of development, from planning and feasibility studies, to engineering design, right-of-way acquisition and all the way through to final construction.
Eligible project proposals should be consistent with the priorities set forth in Connecting Cook County while expanding the County's involvement in multimodal projects. Applications can include proposals for transit, bicycle, pedestrian, freight, roadway modes of transportation and bridge improvement projects, in addition to other transportation improvements.
Deadlines and How to Apply
The call for applications opens on Wednesday, January 18, 2023 and ends at 5 p.m. on Friday, March 17, 2023.
Please read the Program Description.
Download and complete the Application Form and Project Schedule Template.
Submit both documents along with required items using the Submission Form.
Please only submit your application when all documents are complete as progress will not be saved when filling out the form.
Virtual Webinar
DoTH hosted a virtual workshop for interested Invest in Cook applicants on Wednesday, February 1, 2023. Watch the video below. Slides from the webinar can be viewed by clicking here.
Questions
If you have any questions, are interested in finding out if Invest in Cook is a good fit for a potential project or need help applying, please email InvestinCook.CC@cookcountyil.gov.
Helpful Resources
Cook County, Connecting Cook County Plan
Cook County, Cook County Freight Plan
Cook County, Cook County ADA Transition Plan
Cook County, Partnering for Prosperity
Cook County, Planning for Progress
IDOT, Getting Around Illinois Site for Traffic Counts