Fair Transit South Cook
Service Information

Quick link to: Community Partner Materials
---
PROJECT OVERVIEW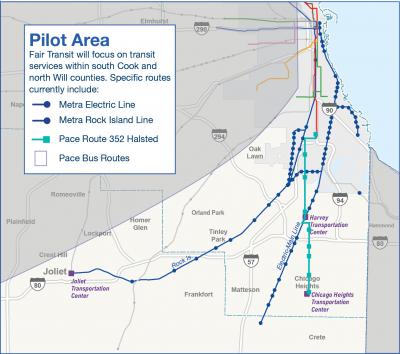 The Cook County Department of Transportation and Highways , under the leadership of President Toni Preckwinkle, has established a partnership with the region's transit agencies to launch the Fair Transit pilot. The three-year pilot project enhances transit service and lower costs for residents of the south side of Chicago, south suburban Cook and north Will Counties.
The pilot launched on January 4, 2021 and offers up to a 50% fare reduction on Metra's Electric and Rock Island lines as well as increased service on Pace Route 352 Halsted. Anyone riding transit in the pilot area may take advantage of these initiatives. The County is underwriting costs for each participating agency. 
View the increased service schedule for Pace Route 352 Halsted. 
View reduced fare table for the Metra Electric and Rock Island lines.
The Fair Transit pilot provides south Cook County and north Will County residents with greater opportunities to make transit their choice for getting to work, school, shopping and regional destinations. All announcements regarding Fair Transit South Cook will be available on this page. Please check back regularly for updates.

PILOT TIMELINE
The three-year pilot will be implemented in phases, as outlined below: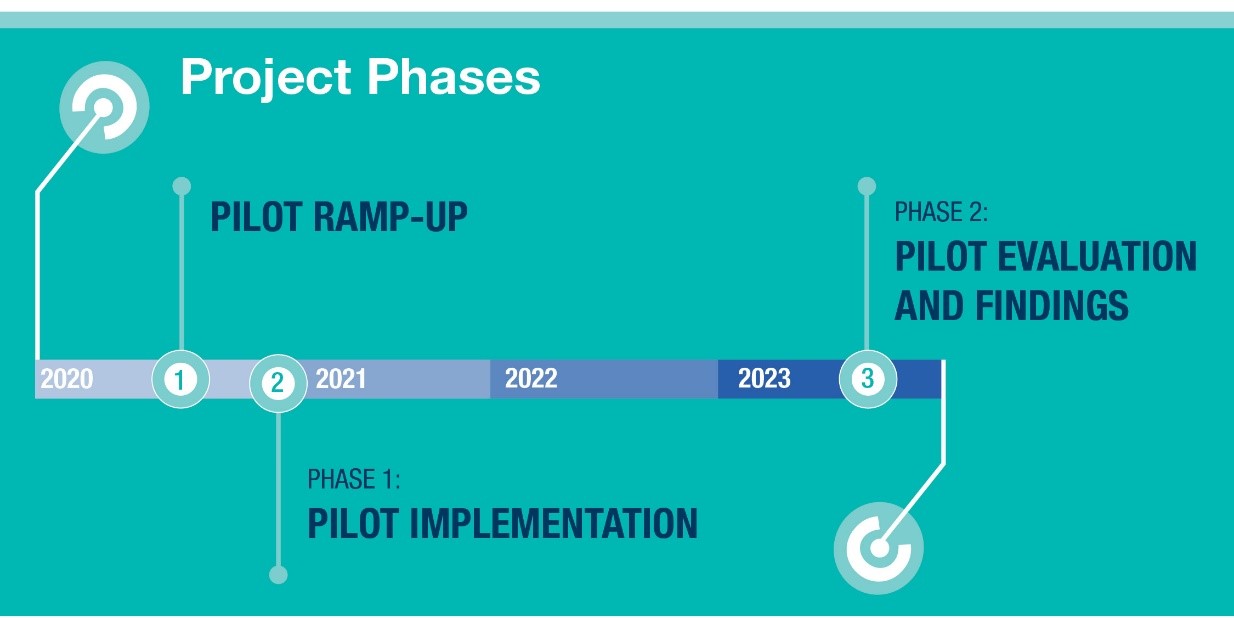 TIMELINE ACTIVITIES
The Metra, Pace and Cook County Boards approved participation during their respective 2020 November and December Board meetings. 
A formal kick-off event celebrating the launch of Fair Transit was held at the LaSalle Metra Station on January 4, 2021. Watch the event in it's entirety on Cook County's YouTube page. 
Leading up to the launch event, community partners were also interviewed about the impact Fair Transit will have on their communities. Watch the highlight video here.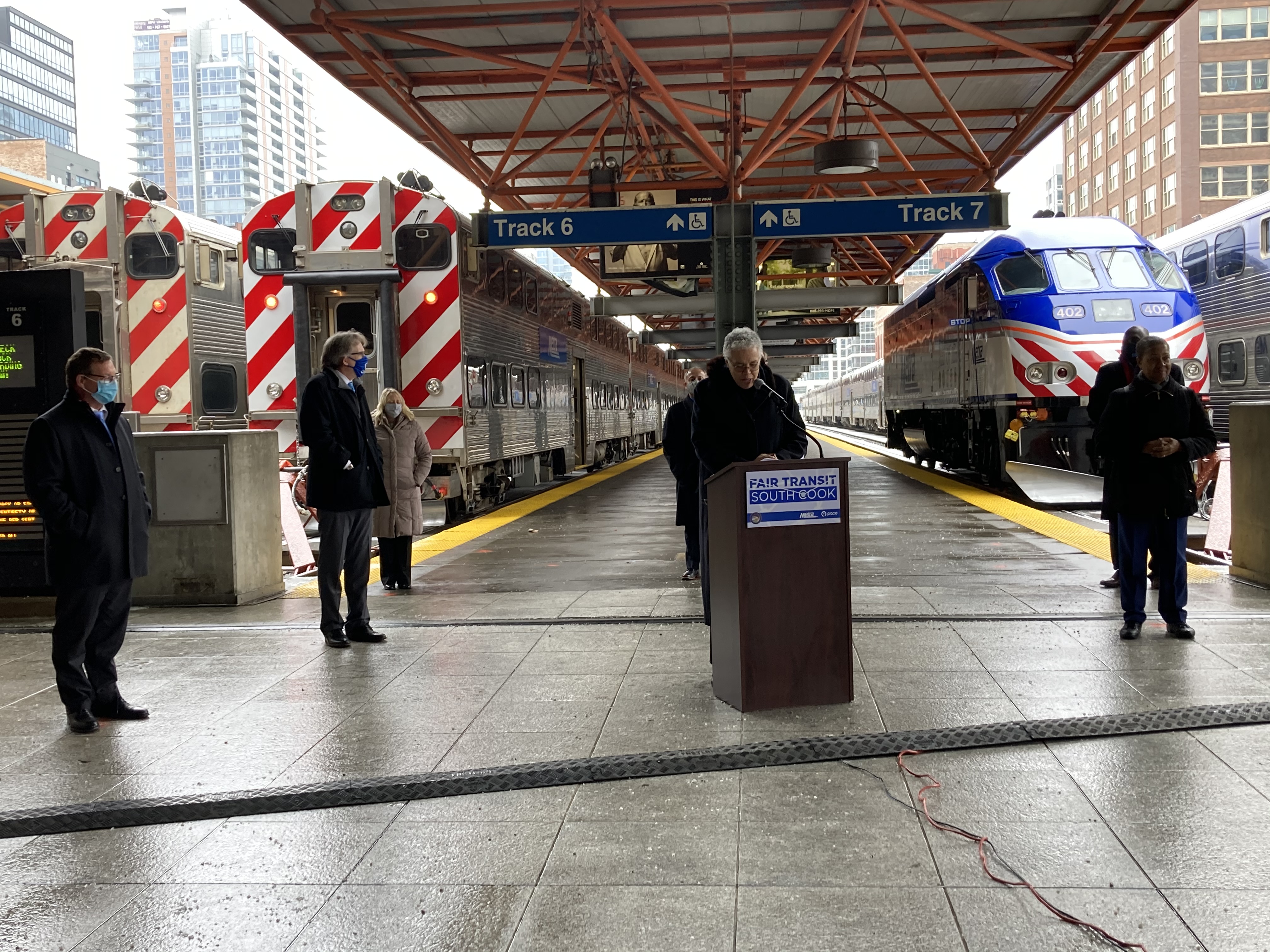 Cook County Board President Toni Preckwinkle speaks during at the LaSalle Street Metra platform during the January 4, 2021 Fair Transit press conference.
PUBLIC ENGAGEMENT
Public awareness and participation in this pilot are critical to evaluate the value and effectiveness. Cook County and the participating transit partners will engage with community organizations to share information with their networks at each pilot milestone.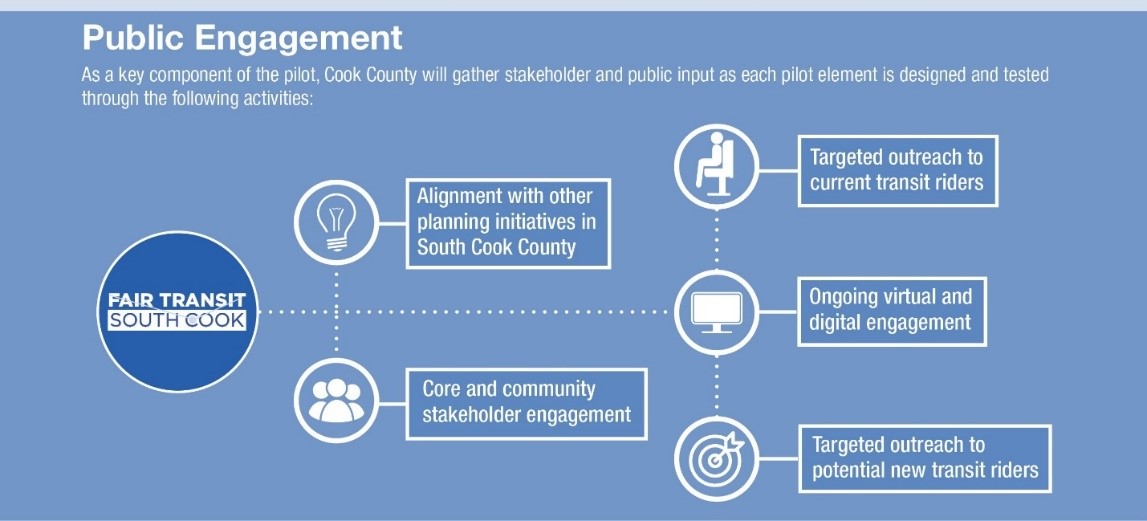 Virtual Community Partner Meetings
The last community partner meeting was held on July 15, 2021. Pilot progress, available data and the team's summer outreach plans were discussed.
View the presentation that was shared: Summer 2021 Fair Transit Community Partner Meeting

The first community partner meeting was held in November 2020 to preview pilot details and the launch event.
View the summary from the community partner meeting: English | Español
View the presentation that was shared: Community Partner Pre-Pilot Preview
Additional Outreach Activities 
Postcard Distribution at Vaccine Sites: Informational postcards and branded hand sanitizer were distributed at 5 County vaccination sites.
Fair Transit Intercept Surveys: Outreach teams went to high-traffic transit locations to raise awareness of the fare discounts and service improvements. The intercept teams spoke with about 31 transit riders in one-on-one interviews.
Fair Transit Business Outreach: 90 businesses within the pilot area were contacted to share information about the pilot, and over 50 businesses responded requesting more information.
 
Awareness Building Advertisements: Promotional ads were placed on 25 Pace Bus Shelters, on the sides of 25 Pace Buses and on 15 Metra viaducts overlooking major roadways throughout the pilot area. 
Surveys
The Fair Transit team is learning about residents' travel needs by conducting online surveys throughout the span of the project.
Please continue to check back for our next survey opportunity.
A pre-pilot survey was launched in December 2020. Responses to this survey are currently being analyzed and will help provide a base of information for how people were using transit prior to the pilot launch.
Research + Information
Part of the pilot is funded through Federal Transit Administration (FTA) Accelerating Innovative Mobility program. You can learn more about the grant process and awardees here: www.transit.dot.gov/AIM