Digital Equity
Service Information
Did you know?
25% of Cook County residents lack high-speed Internet.
43% of unconnected Illinois households are in Cook County.
There are as many unconnected homes in Cook County outside of Chicago as there are in all of rural Illinois.
17% of Black and Latinx Cook County households lack a computer.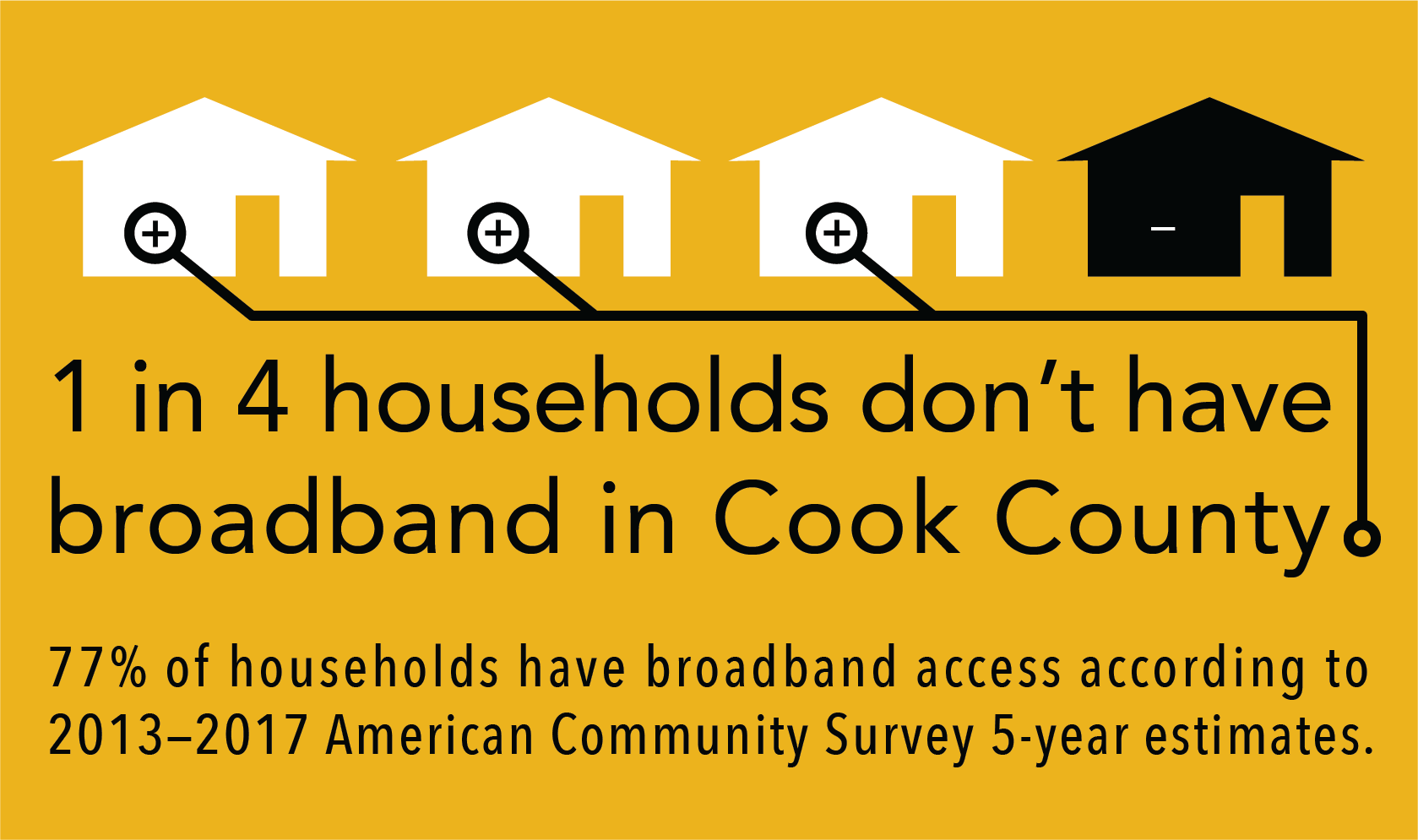 Mission
Cook County supports sustainable action to advance digital equity. Cook County Board President Toni Preckwinkle has tasked Offices Under the President to advance digital equity in three areas: digital infrastructure, digital proficiency, and digital accessibility. All three areas are equal priorities for Cook County. Together, all three are the only way communities can move across the digital divide.
Digital Infrastructure
Although to many residents of Cook County broadband may seem ubiquitous, large areas of the south and west suburbs, as well as parts of the south and west sides of Chicago, lack the underlying infrastructure for residents to access high-speed internet. It's not just that residents in these 'broadband deserts' can't afford high-speed internet – it's not available there at any price.
 
Digital Proficiency
Connection to high-speed internet will not be helpful to those who are unable to use it. As everything from banking to job hunting moves to be more exclusively online, all our residents need the skills to ensure that they are not excluded from the economy. 
 
Digital Accessibility
Although costs for consumer electronics have come down in some cases, computers are still beyond the reach of many low-income families. In addition to infrastructure and proficiency, computers are the final piece of the puzzle that would lead to digital wellbeing. Accessibility includes digital or remote access to health care, education, work and interaction with government and other services.
 
Partners
The Council is seeking corporate partners, local governments, schools and libraries to support efforts to bridge the digital divide that challenges many households in our region. Specifically, partners who have a footprint within the neighborhoods and communities that are digitally disadvantaged. The County will provide interested parties with the locations and districts with the greatest need. 
 
The Need
WIFI connectivity
Mobile hotspots
Monetary contributions for the Cook County Equity Education Fund for the purchase of computers and high-speed internet to most impacted communities in the south suburbs.
We would like to work with partners (working individually or jointly) to secure and/or offer digital services and devices at no to low cost; assist the County with distributing such services and devices to those in need; working in concert to produce effective efforts that can be sustained past the immediate health crisis.
 
Cook County's Broadband Expansion
Cook County's Broadband Program was born out of the 2008 recession. It was created as an economic stimulus that would also improve the County's own data sharing between locations. The program was a collaboration of multiple regional partners:
Cook County
Chicago Transit Authority (CTA)
City of Chicago
State of Illinois – Illinois Century Network (ICN)
South Suburban Mayors & Managers Association (SSMMA) 
Northern Illinois University (NIU)
Chicago Southland Fiber Network
The Chicago Southland Fiber Network (CSFN) was founded by the South Suburban Mayors & Managers Association with the help of State of Illinois and Cook County. They have been providing services and fiber connectivity in the Chicago Southland region since 2014.  
Currently, CSFN serves a variety of customers including Cook County courthouses, south suburban regional hospitals and clinics, municipal governments, public safety agencies, community colleges and universities, and economic development organizations. Over the past seven years, CSFN's business model targeted anchor institutions within communities, supplementing later operations through fiber adoption in the business community. Business and municipal customers facilitated the ability of the CSFN to encourage community adoption at a far cheaper rate than commercial internet providers. 
Cook County recently received a grant of $1.8M from the State of Illinois as part of the Connect Illinois broadband expansion initiative. This grant will help fund further expansion of CSFN throughout the south suburbs.
OpportunityWorks 
The Chicago Cook Workforce Partnership has a program called Opportunity Works that trains young adults in suburban Cook County and connects them with businesses that are looking for new employees. This program is open to all of suburban Cook County, offering sector-specific training in these areas:
Manufacturing
Information Technology
Transportation, Distribution, and Logistics
For more information, visit www.chicookworks.org/opportunityworks.