high-level alert:
FEMA Assistance Available to Cook County Residents Impacted by Flooding
Latest Innovation Award Winners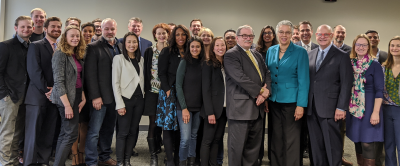 The winners of the 2019 Chicago Innovation Awards joined President Preckwinkle on January 20, 2020 for a round table discussion about their innovations and the positive impact they could have for the County and our region. In our photo, President Preckwinkle is surrounded by the award winners, along with Howard Males, Board Member, (to her left), and Tom Kuczmarski, Founder, Chicago Innovation (to her right), and Luke Tannen, Executive Director, second person standing left hand, front of photo.  
"Each year award winners make important connections to County leadership and I appreciate the diversity and County wide reach of the Awards," said Cook County President Toni Preckwinkle. "As County Board President, I am committed to creating a climate that makes it more likely that people like you — entrepreneurs, inventors, business owners and investors — will choose our region as a place to launch and grow your businesses. "  
In her remarks, President Preckwinkle noted some important points:
This year marks the 19th anniversary of the Chicago Innovation Awards
75 people in attendance has grown into a year-round community of events and programs that had over 10,500 people participate in 2019.  
98% of the 310 Chicago Innovation Award winners that have won since 2002 are still in business. 
They have expanded their programs to include: the Chicago Student Invention Convention, the Women Mentoring Co-op and the Ageless Innovators Intergenerational Co-mentoring program.
Connections and networks are the hallmarks of the new economy.  A very informative discussion took place as questions were raised not only about their innovation, but how their ideas may have a positive impact on such items as jobs, education, and prevention of infections in hospital environments.  To find out more about the winners and their innovations, go to the Chicago Innovation Awards website.