high-level alert:
FEMA Assistance Available to Cook County Residents Impacted by Flooding
Employee Assistance Program
Employee Assistance Program
Service Information

Employee Assistance Program
Your Cook County Employee Assistance Program (EAP) is here to help you balance the demands of family, work and personal needs. The Cook County EAP is administered by Magellan Healthcare and is staffed by licensed professionals available to help you at no cost and is available 24 hours/7 days a week.
The EAP is here to help you and your household members along the journey of life. No situation is too big or too small. Services include telephonic goal-oriented coaching, counseling, digital self help tools, online programs, and more!
All services are confidential and can be accessed over the phone at 1-800-327-5048 or online at www.MagellanAscend.com.
Counseling is available for the entire family— individuals, couples and teens (with parental consent and in accordance with applicable law and clinical appropriateness). Virtual therapy is available in four modalities: text message exchange over a week, live phone, live video, or live chat. There are five EAP visits available at no cost, per individual, per issue. If additional service are needed, the appropriate health benefits plan applies.
COVID-19 Update
Magellan Healthcare is continuously monitoring COVID-19 as it evolves within the United States.  Magellan Healthcare will continue to post updates and resources to https://www.magellanhealthcare.com/covid-19/ as they become available.  This website offers the following resources:
Dealing with anxiety related to outbreak
Links to Crisis Communication, Mind Your Mental Health and Health and Wellness Library pages
Links to international, national and local information sources
Magellan Healthcare Digital Emotional Wellbeing
Magellan Healthcare is pleased to introduce a new Digital Emotional Wellbeing program, powered by NeuroFlow, to help you take control of your whole health—life, mind and body—through relaxation and mindfulness techniques, strength-building activities, behavior tracking and wellbeing assessments.
Click here to watch a short video
To get started, visit the Employee Assistance Program member website at MagellanAscend.com or scan the QR code to get started.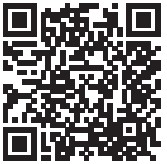 Documents
Coping with stress during infectious disease outbreaks
Watch an EAP Webinar
2022
Your Employee Assistance Program (Recording)
Employee Assistance Newsletters
2023
August - Caring for yourself and others
April - Money Matters: Financial literacy month
March - Prioritizing self-care
February - Healthy relationships